Change-Capable Leadership: Insights from the top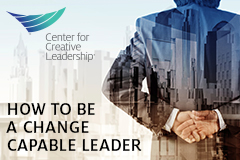 Change has become a constant in an ever complex environment. Learn from experiences from top leaders worldwide through their life lessons in leading, navigating, and executing change initiatives.
In this whitepaper
"Change-Capable Leadership: The Real Power Propelling Successful Change"
, we see real leaders share real stories on the realities of change. They examine what was done and lacking. They reflect on their behaviours, actions, mindsets and challenges, giving us a deeper view on both their successes and failures.
Change is never linear - always continuous, numerous and simultaneous. Going beyond change-management models, this research considers both change processes and the people behind the change - to learn from them what helps, what warning signs to look out for, what causes derailment and why mindset and intentions matter.
Whitepaper highlights include:
Three organizational warning signs that flag impending problems
Nine Key Competencies: What supports positive change?

Three Cs of change: Propelling change
Leading the process: Steering change
Leading People: Engagement for stable change

Three Change Traps: Pitfalls to avoid
Two Change Derailers: Emotional responses that guarantee failure