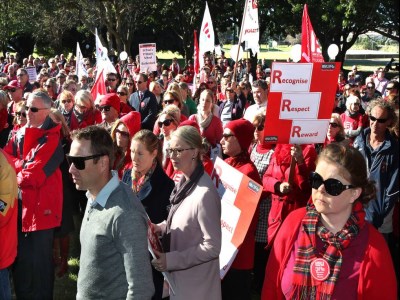 The Independent Education Union's (IEU) assistant secretary Carol Matthews says she sees no other option but industrial action if the current impasse over a controversial "code of behaviour clause" cannot be resolved.
"Schools are seeking to have the right to have very intrusive control over teachers and support staff's lifestyles," Matthews told
The Canberra Times
.
"If the issues can't be resolved, I would see no option other than industrial action."
The Catholic Commission for Employment Relations (CCER) said it was surprised by Matthews' "quite extraordinary" statement, considering that the IEU had given them a code of behaviour clause of their own weeks ago.
The Commission's executive director, Tony Farley, said he was perplexed by the union's reaction to what he saw as a clause rooted in the same values.
"It's very curious given that the union actually provided us with a proposed ethos provision some weeks ago. It surprises us that they seek to go out and make an issue of it, it's quite extraordinary," Farley said.
"To be precise, the clause which the union proposed said 'employees are required to be supportive of the mission, teaching and values of the Catholic Churches work in schools'".
Yesterday, IEU general secretary, John Quessy, said Catholic school teachers were outraged by a clause proposed by the CCER, labelling it "intrusive".
Teachers claim that the proposal may expose them to investigation – over lifestyle decisions – such as gay rights advocacy, in vitro fertilisation and sleeping with a partner outside of marriage.
Matthews said that while the union did not have a problem with employees having to support the ethos and philosophy of their employer, the new clause went too far.
"The change is that the employers are now saying that any employee, whether it's a teacher or a gardener, must avoid any public or overt behaviour in or out of the workplace, by action or by lifestyle, which is contrary to the mission, teaching and values of the Catholic Church," Matthews said.