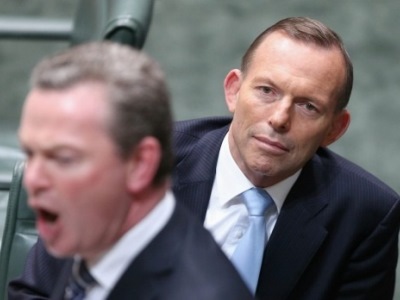 Both Tony Abbott and Christopher Pyne have ruled out ending all Commonwealth funding for public schools after a paper was leaked revealing the proposal.
On Monday, the Prime Minister called a proposal to require wealthy parents to pay for their children's public education "creative thinking" but later ruled out the idea in parliament when questioned about it.
"The Australian government does not and will not support a means test for public education, full stop, ends of story," Abbott said during question time on Monday afternoon.
"If the states and territories want to change wealthy parents fees for public schools, that is a matter for them. Charging wealthy parents for their children to attend public schools is not this government's policy."
The teachers union said if the move was implemented it would spell the end of the education system as we know it.
It had been a fundamental right since the 19th century for every Australian to be able to access public schools free of charge, Australian Education Union (AEU) federal president, Correna Haythorpe, said in a statement.
"This has nothing to do with improving education outcomes for children and everything to do with cost-shifting and privatisation," Haythorpe said.
"The problem that was so clearly identified by the Gonski Review was that governments were not working together closely enough to ensure every school was resourced to meet the needs of every child.
The green paper – which has not been officially released – recommends one of four reform options, the last of which indicates that the Federal Government would provide funding for all students "adjusted for student need and the ability of families to make a contribution".
The green paper precedes a final white paper on Federation reform that is due for release by the end of the year.