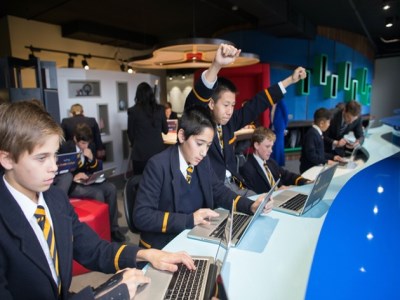 Activity Based Learning (ABL) takes student collaboration to a new level, says Chris Metcalfe, Dean of Applied Science at The Scots College.
Well-known media personality, Dr Karl Kruszelnicki, opened The ABL Space at The Scots College in December during an event with noted Australian doctor, Professor Graeme Clark in attendance.
Having developed from the educational philosophy of international companies such as Fuji Xerox and Google,
Metcalfe said the ABL program enhances the development of "21
st
century skills", such as ICT and collaboration, adding that the program caters to students different learning preferences.
"The lecture areas are designed to promote intimate lectures and to facilitate scientific discussions," Metcalfe told
The Educator
.
"Small group and individual work areas were designed to cater for the different learning styles of students. Whether students are visual or kinaesthetic (hands-on) learners, whiteboards and small seating areas are available."
Whereas traditional classrooms are designed to suit most activities, the College's ABL Space provides students and teachers with areas designed to suit core activities in Applied Science.
A key feature of the program is "inquiry learning", a process which involves students confronting real-world questions, issues and controversies, as well as developing questioning, research and communication skills.
ABL also uses active and collaborative learning to teach "design thinking", a process in which students learn to include empathy when considering the context of a given problem.
Design thinking has become a crucial component in adolescent education following research that has
recommended
that educators put a stronger focus on students' emotional intelligence.
Metcalfe said that while many schools encourage inquiry learning in open spaces, very few have an activity based learning design.
"We have made sure that in the design of the ABL Space we've catered to the different learning preferences of the boys," Metcalfe said.
"We hope that through the use of this space the student-teacher interactions will become closer and more individualised."