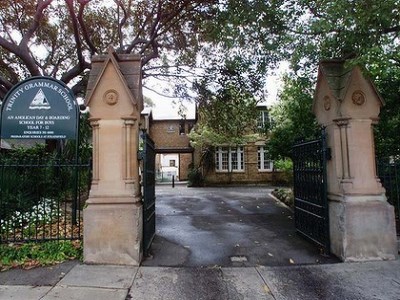 A top Sydney private school has come under fire after it was revealed that Year One students were engaging in inappropriate behaviour with one another on school grounds, as well as outside of school.
Trinity Grammar School, located in Summer Hill, is now reviewing its procedures and working with angry parents who complained that they had not been notified until eight days after the school had become aware of the students' behaviour.
However, the school's principal, Milton Cujes, has told parents the delay was due to compliance with a request by the Department of Family and Community Services (FACS) not to inform them while the matter was being investigated.
Up to nine of the students are said to have involved in the acts which occurred in the boys' toilets and in the playground when they should have been under adult supervision.
In an email sent to parents on December 21, Trinity's Master of the Junior School, Mark Dunn, outlined the events that had taken place since the first allegation of inappropriate behaviour was reported to the school on November 18.
Dunn's email said that the behaviour "concerned a small group of boys with one another, with differing degrees of individual involvement, occurring on a number of occasions both in and outside of school".
After notifying FACS, the school then commenced its own investigation, led by a staff member who is an accredited Child Protection Investigator.
In a statement over the weekend, the school's Head Master, Milton Cujes, said FACS has advised Trinity that their investigation has been completed. No statement has been made about the status of the Trinity investigation.
The students and parents who were either directly or indirectly affected by the incidents have since been offered counselling by the school.