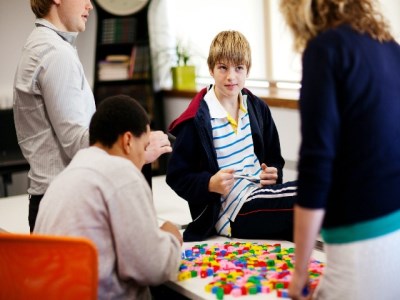 It is arguably the hardest part of a teacher's job, so why aren't they being properly trained for it?
An audit by the NSW Board of Studies, Teaching and Educational Standards (BoSTES) has found that teachers are not adequately trained to handle difficult classroom behaviour and students with special needs.
The audit is the third in a series of revealing studies into the quality of training courses that universities are offering to new teachers. The latest audit advocates the benefits of bringing in experienced teachers to help with coursework training.
"It is highly unlikely that graduating teachers can be prepared with sufficient knowledge to cater for all of the students with special needs they will encounter in their first classrooms," the audit says.
In December 2014 a new website called
Amaze Online Classroom
was launched, offering guidance to parents and teachers for how to best manage autism.
Amaze chief executive Fiona Sharkie said feedback on the site from teachers had been positive, but more support is needed.
"Teaching is a difficult job. The more strategies teaching staff have at their fingertips to help them understand and support individuals with ASD, the better it is for everyone." Sharkie said.
Last year, Autism Spectrum Australia (Aspect) cited a 30% increase in the number of families seeking its early intervention service.
With the number of children with autism on the rise, there is now pressure for additional services to help schools manage the issue.
Association for Children with a Disability chief executive Elizabeth McGarry worries that teaching courses aren't serious enough about providing special needs training to their students.
McGarry said that in Victoria only one teaching degree out of 49 made special needs training a mandatory subject.
"There are subjects that are electives but this just means students can choose to avoid them altogether." McGarry said.