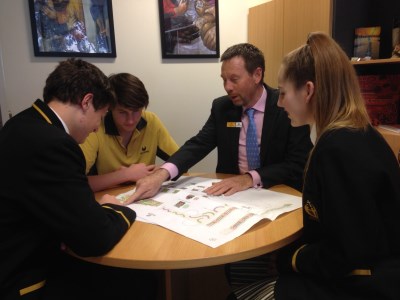 Nazareth Catholic Community secondary principal, Phil Lewis says 2014 was a great year for his school, but 2015 will be an even better one.
Lewis, who is also the president of Catholic Secondary Principals Australia (CaSPA), is overseeing an ambitious three-point plan aimed at making his school more productive, creative and communicative.
In a nutshell, the initiatives involve setting performance standards for Years 8 and 10, setting a curriculum review and implementing iScholaris, a new online resource to improve the flow of information between students, teachers and parents.
Lewis said that together, the three initiatives will ultimately enhance student learning outcomes for the South Australian Certificate for Education (SACE).
"We are going to look at the performance standards of each subject area back to Year 8, so that up to Year 12 there will be a progression of complexity and a higher level of achievement expected of each year level to get, say, an A."
"We're then going to use the achievement standard in the Australian curriculum as a C level, and then build up from there," Lewis told
The Educator
.
By setting this benchmark, Lewis believes that measuring the progress of students will not only be easier but will also improve "consistency and continuity between teachers and classes."
Introducing a curriculum review for Years 8 and 10 is similarly aimed at consistency, but will take a closer look at teaching best practice and, perhaps just as importantly, the creative abilities of students.
"The curriculum review is going to look at the timetable structure and the broader issues of what is good teaching in those middle years of secondary school.
"We also want to look at the Melbourne Declaration, which focuses on young, creative and informed students who are active citizens in the community.
"If all that we hear about is how the world needs people who are creative and innovative, we want to see how we can bring that into our curriculum for Years 8 and 10," Lewis explained.
Lewis also elaborated on his school's new online resource, iScholaris, which he hopes will complement the changes that are about to be implemented.
"iScholaris is a software program that will enhance all of that," Lewis said.
"We are going to put all of the data on to Scholaris so students and parents will be able to review the progress. It's basically an interactive tool designed to build on the educational partnership between schools and parents.
"The results we achieved at the school last year were outstanding, but the key to all of this is that we want to look at ways in which to build on it and sustain it," Lewis said.