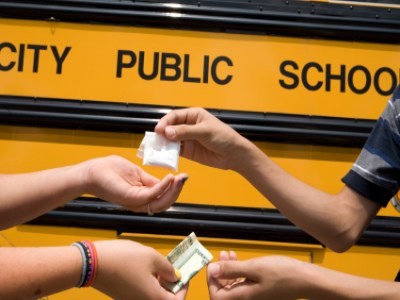 A problem has emerged that is serious enough to have raised a previously unthinkable option: drug-testing students.
The controversial suggestion follows statistics from Victoria's Youth Support & Advocacy Service (YSAS), which reveal an alarming rise in youth addiction to ice and other illicit substances.
In Victoria, the number of ice and methamphetamines addicts aged below 23 was shown to have soared from 75 in 2009 to 334 in 2013, a nearly five-fold increase.
The figures also showed that since 2009, up to 49 children aged between 10 and 15 received help for methamphetamines, including five aged 13.
The disturbing insight follows reports this week that some schools have contacted drug and alcohol authorities, asking about the legalities of drug-testing their students and how they could go about doing it.
And the youth drug crisis isn't just confined to Victoria.
Late last year the Salvation Army in QLD caused alarm when it said there had been an 88% increase in people treated at their recovery centre in Townsville, and a 40% increase in Brisbane.
Despite the issue being deemed serious, YSAS has said that it opposes drug-testing in schools, arguing that it will not fix the problem.
"We do get schools inquiring about it, but drug testing isn't always 100% reliable and evidence shows it's not particularly effective or useful,'' said the service's chief, Paul Bird.
Likewise, the Victorian State Government disagrees that drug-testing is the answer; with Deputy Premier and Minister for Education James Merlino saying it would do more harm than good.
"It will only lead to at-risk children being discouraged from coming to school and getting the support that they need,'' Merlino said.
"We have got hundreds of social workers, psychologists, student welfare workers, who are there to make sure that children and their parents get the support that they need."
The spike is blamed on the increasing availability and purity of crystal meth, with rural communities being the worst affected.