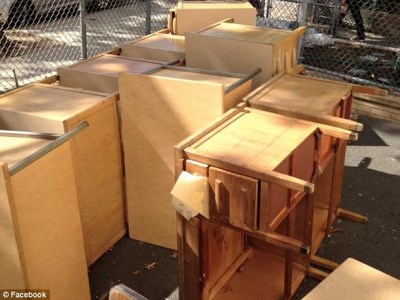 Last week, Donna Connelly, principal at the Spuyten Duyvil School in New York, tried a curious experiment to improve teaching at her school.
Before class was in session, Connelly instructed the school's teachers to empty their filing cabinets, as custodians hauled each classroom's desks outside and piled them like trash across the street.
It was at this time teachers became markedly confused, with some of them questioning where they would store their belongings – and why their desks were suddenly such a bad thing.
"It's the 21st century – you don't need desks," Connelly snapped. As for where the teachers would store their supplies, Connelly told them to "figure it out".
As to where teachers should grade papers? "Use the lunch room," Connelly suggested.
Sources told
The Post
that the bizarre new rule had a demoralising effect on staff at the K-5 school, where diverse students perform well above the city average on state exams.
According to some of the teachers, they were forced to remove student paperwork and items such as devices to help kids with asthma.
"All their stuff is in boxes, bags and on the radiators," a source said.
Children watched as the furniture was cleared out.
"The kids saw their teachers upset about what was going on. It was dehumanizing," another source said.
Unsurprisingly, word soon spread to the local superintendent, Melodie Mashel, who ordered the furniture to be returned to the school – which was done, however it was later found that the desks were stacked in the basement.