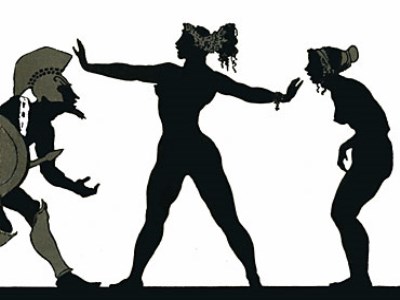 An amateur theatre group has defended its decision to host a "provocative, no holds barred comedy" at a school.
A performance of Lysistrata, a play which was originally performed in classical Athens in 411 BC, was held at the East Oxford Community Classics Centre and included performers donning giant phallic props – a common feature of Ancient Greek comedy.
However, it was the age of the audience that became an issue, with some students as young as 14 watching the play.
Dr Lorna Robinson, the centre's founder and director, told the
Oxford Mail
that while the play might have been provocative, it was all above board.
"It needed the 14 plus rating which the theatre company advertised at and we stuck to it. No-one younger than that was let in," she said.
"From the advert for the play it was always going to be bawdy and provocative and I think everyone there knew that."
She added that the play was "brilliantly received" and enjoyed by all, including several local schools.
"It's important to stress that this was a community production but hosted at Cheney School in the community classics centre."
Aristophanes' play, adapted in this case by theatre company Actors of Dionysus, is the comic account of the women of Greece denying their men sex in a bid to stop the Peloponnesian War between Athens and its empire and Sparta.
The women withhold sexual privileges until their men agree to negotiate for peace and it causes a battle of sexes and gives an early insight into gender relations in Ancient Greece.
Plays performed at the time would have seen male character wearing large phalluses made obvious to the audience.