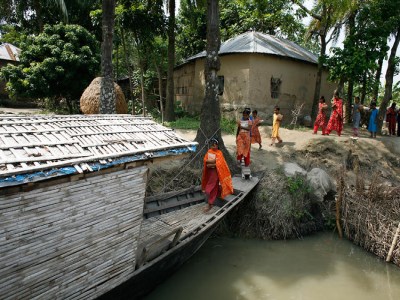 While our school students walk into the classroom, 9,065km away in Bangladesh, that classroom is on a 'school boat', equipped with 21
st
century technology.
While the boat schools might not appear as advanced as the modern classrooms here in Australia, each of the floating schools has an Internet-connected laptop, as well as a library.
One might ask, what's wrong with a traditional classroom?
During the 2007 floods which ravaged much of the low-lying country, more than 330 schools were destroyed.
Mohammed Rezwan's idea? Let's build the schools on a river.
Mohammed Rezwan, a Bangladeshi architect, conceived the idea in 2002 and founded the non-profit organisation, Shidhulai Swanirvar Sangstha. Shidhulai operates a fleet of nearly 100 boats that provide services to up to 97,000 people in flood-prone areas.
Services also include access to health care, libraries, and information about agriculture and financial management.
The boats pick the students up every morning and reward them with solar-powered lamps for their homes--given they attend school regularly.
"I like the floating school," said one student.
"During the Monsoon, water is everywhere. Everything is shut down. Only the floating school comes around at that time, right up to our doors."
Rezwan compared the program to "a cross between a school and a school bus".
"Issues like this need local solutions by local people," Rezwan told
Co.Design
, adding that it's not just school students who benefit from the system, but entire communities.
The innovative system has resulted in new opportunities to those who otherwise would have little or no access to things like fresh vegetables, recycling services and even housing.
Rezwan says that Shidhulai is reaching 1,657 students right now, and that number is likely to grow.
According to scientists, nearly 20% of Bangladesh will be underwater by around 2030.