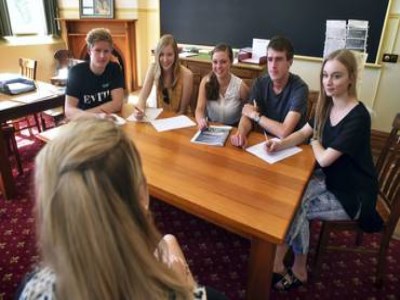 Student interview panels can bring "a valuable perspective" when it comes to deciding who gets to fill leadership positions in their school, a NSW principal has said.
Eltham High School is one of several schools giving students an opportunity to interview shortlisted candidates applying for leadership positions at their school.
Correcting an earlier report that suggested that the student panels were able to hire teachers, Sicari explained that the while panels did not have that kind of power, they can inform the overall decision-making process when it comes to hiring shortlisted candidates.
"The students are not involved in the day-to-day employment of teachers. Rather, we use these panels to interview for leadership positions, such as assistant principal positions," Sicari told
The Educator
.
Sicari said that Eltham High School, which has now been operating the student panels for seven years, holds the perspectives of its students in high regard.
"Students can often bring a very different and valuable perspective to a school's decision making process," Sicari said.
Explaining how the student interview panel works, Sicari highlighted their influential nature, also revealing the potential for the development of leadership skills for the students involved.
"The first interaction that the shortlisted candidates have is meeting the chair of the student panel. He or she interviews them first and gives them their questions and ten minutes to consider them. The panel then asks the candidate their questions.
"At the end of the process, the two panels meet and have a conversation about how the students felt during the interview, and how they can inform the process of arriving at a decision.
"As the school's leaders, we sit and listen carefully to their observations based on their interviews, then ask the students questions," Sicari explained, adding that the feedback regarding the panels has been "outstandingly positive".
"The feedback that we've received has been outstandingly positive. It's just amazing to see these young people rise to the challenge.
"It's a really fantastic process, and one that we're really proud of."
Templestowe College, Melton West Primary School and St Helena Secondary College are among a handful of Victorian schools that also use student selection panels.