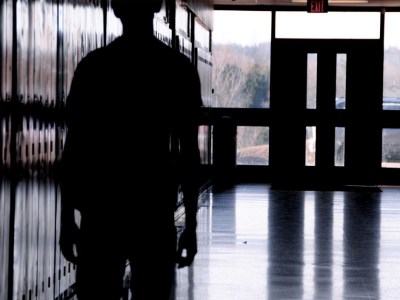 The Federal Government has announced new support for teachers, students and parents when it comes to identifying 'at-risk' youth.
The joint announcement over the weekend by the Federal Education Minister, Simon Birmingham, and the Minister for Justice, Michael Keenan, followed a string of
hoax bomb threats
that led to the evacuation of thousands of students across NSW, Victoria, Queensland, the ACT and South Australia.
In a statement, Birmingham, said initiatives currently being developed included giving school staff "awareness training and clear referral pathways" to seek help in responding to concerning student behaviour.
The Minister said a series of local community youth forums will also be held by the Commonwealth Department of Education in partnership with the States and Territories early this year.
"These will provide young people the opportunity to explore this complex problem and consider how we can work together to help reduce marginalisation and further support young people," Birmingham said.
The new initiative will include three key support measures:
providing awareness training for relevant school staff on understanding radicalisation to violent extremism, appropriate support and referral pathways;
classroom resources designed to build students' resilience to violent extremist influences; and
mechanisms for school communities and parents to receive and share information and good practice approaches to this issue.
Minister Keenan said Australia was "a world leader" in countering violent extremism, but emphasised that further exploration of innovative and creative solutions to "a complex problem" was needed.
"Sadly, we have already seen a disturbing trend of not only more Australians, but increasingly, younger Australians subscribing to terrorist ideologies, with tragic consequences," Keenan said.
"It is a complex issue requiring cooperative efforts between governments and communities, schools, parents and families, as they are the front line of defence against radicalisation and threats to social cohesion."
He added those who worked with youth were best placed to identify changes in behaviour and intervene early in order to prevent children from "going down the wrong path" before a law enforcement response was required.
"This is about harm prevention – we have a responsibility to safeguard vulnerable Australians from terrorist groups and from putting themselves or others at risk," he said.
Dr Clarke Jones, counter-terrorism and criminology expert from the Australian National University (ANU) in Canberra, told
The Educator
that it was important to encourage 'at risk' students to engage more strongly with their school and family, saying locking them up did more harm than good.
"If it is students who want to exploit the current terrorism threat to cause disruption, they need help first and foremost," he said.
"The best thing we can do is find ways to keep kids close to their families, schooling and vocational opportunities," he said, adding that if these things are taken away from them, they may feel that radicalised behaviour is justified.