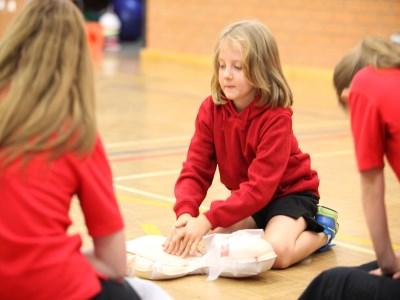 Speed and efficiency when responding to a serious injury or health issue on school grounds can mean the difference between life and death.
The Educator
looks at a recent incident involving a Melbourne student to see how well schools shape up in this crucial area.
Students and staff at Melbourne Grammar School got to put their First Aid training into action on Friday when a student at the school suffered a heart attack. The student, Chris, was immediately treated and is now in a stable condition.
The St John Ambulance First Aid in Schools Program currently provides free First Aid training to more than 150,000 Victorian primary school students at no cost to schools or parents.
Martin Wells, manager of community relations at St John told
The Educator
that principals should ensure that staff, students and visitors are trained in First Aid so that in the event of an incident, an effective response can be delivered in the shortest time possible.
Wells said that to achieve the best possible response plan, schools should first review the number of staff trained in First Aid.
"Specifically, they need to ask 'do we have enough staff to cover all school activities?' and 'who will provide the response when our primary First Aiders are away on leave?'" Wells told
The Educator
.
"Given the fact that cardiac arrest can happen to anyone at any time, additional First Aid equipment, like a defibrillator, may be needed in the school grounds."
Wells said St John Ambulance Australia's mission was "to see at least one person, educated, equipped and prepared" to provide First Aid in every home workplace and public gathering.
"Schools are a pivotal environment to instil best practice First Aid behaviours in our future generations, which is why in Victoria alone this year, St John is teaching First Aid to 150,000 primary school students at no cost to school or parent," Wells said.
For any school needing assistance with assessing their risk and preparation to respond to this risk, St John has teams that can visit onsite to review current levels of preparation and advise them of solutions.
For more information, please click
here
.