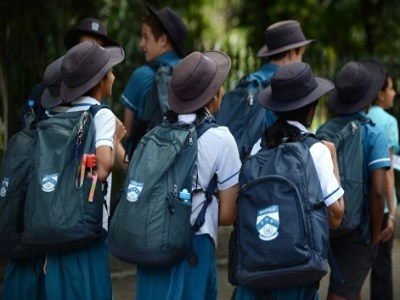 Nation-wide, there has been a 17% increase over the past year in enrolments from full fee-paying international students, with the majority of students coming from China, Korea, Vietnam and Malaysia.
Schools in NSW and Victoria have been the most popular, with 2,920 enrolments in NSW state schools this year and 2,815 in Victorian schools.
The students pay fees of up to $14,000 to study in public schools, in addition to spending about $300 a week to stay with an Australian family, raising at least $33m each year.
At Wellington Secondary College in Victoria up to 10% of its students can be full-fee paying.
Hugh Blaikie, the school's principal, said the income from international students has made a "massive difference" to the school's budget.
"It allows me to employ a wider variety of teachers. Any money that is left over we put into the school and invest in infrastructure," Blaikie told the
ABC
.
An education department spokesman told the
Sydney Morning Herald
the biggest growth was from China, following a change in visa regulations introduced last year.
Students from China used to make up about 50% of international students in NSW, but that figure has now risen to more than 60%, he said.
"The change permitted younger students from Year 7 to obtain a school sector student visa," the spokesman said.
"Previously, students from China had to complete junior secondary school (Year 9) before they could apply for a student visa to attend high school in Australia.
"There has been growth in the Chinese community in Sydney, and a number of parents also nominate distant relatives or family friends to look after their child. These families must meet the same requirements as a host family."