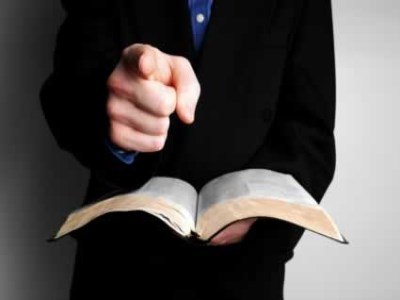 Recent recordings from several public schools on the Central Coast have revealed that evangelical groups are using the schools' grounds to preach sermons stating that homosexuality will send people to hell.
SBS
recently reported that during the recordings – from Lambton High School in Newcastle and Tuggerah Lakes Secondary College – pastors quote Bible verses that say homosexuality is a "sin" and "one of the things that send people to hell".
However, the sermons were not delivered to students during school hours, but to congregations on weekends when the churches lease school buildings.
So should this the use of public school grounds for such purposes be considered okay?
Not according to Darrin Morgan from Human Rights Advocacy Australia.
Morgan lodged a complaint to Tuggerah Lakes Secondary College's acting principal, Carlie Wells, who responded by saying that the sermons were "not consistent with the expectations" of the school's campus and The Lakes Church.
Wells added that the school would review its arrangements regarding the use of its facilities.
A spokesman for the NSW Department of Education told
SBS
that it "does not allow any group or church to use school grounds to preach homophobic messages".
However, all of the churches denied the sermons were homophobic.
"Views on sexual ethics differ in society. Our beliefs are those of mainstream Christian churches around the world. We teach that Christ offers life and hope in a world which lacks both," Pastor David Sheath from The Lakes Church told
SBS
.
"Anything outside of that, whether it is homosexuality, or adultery or pornography or sex before marriage; anything that doesn't conform with what God created us into, is wrong," the pastor told his congregation."
Pastor Dave Moore from the Hunter Bible Church also denied anti-gay sermons had been preached on the school site.
"No message that fits what you've described has been given on school grounds," he told
SBS
.