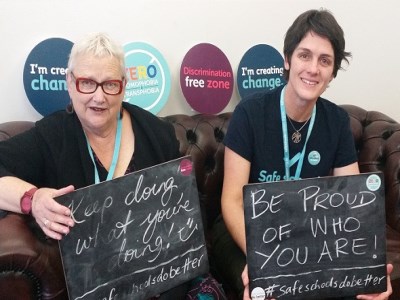 Last week, a national anti-bullying program for schools came under fire by the Australian Christian Lobby (ACL), which called it an "inappropriate sex education program".
ACL spokeswoman, Wendy Francis, told
The Educator
that the Safe Schools program was more about "radical sex education" than preventing bullying, adding that it was confusing for children.
However, the body organising the program – Safe Schools Coalition Australia (SSCA) – has come out in defence of the work it is doing in schools, denying any of the content was inappropriate.
"Neither the SSCA resources, the website or the SSCA staff instruct young people how to bind their chests," an SSCA spokesperson told
The Educator
.
"A separate, independent organisation, Minus18, provides safety information on its website for transgender young people so they do not cause harm to themselves. The SSCA program resources do not include descriptions of any sexual techniques."
SSCA is a national coalition of schools, staff, students and families, dedicated to creating safer and more inclusive learning environments for staff, students and families.
Sexual diversity, gender identity and being intersex are not necessarily visible forms of diversity and therefore schools may not find it as easy to meet the needs of these students without specific guidance and actions.
The SSCA said research suggests that school remains one of the most unsafe places for same sex attracted and gender diverse people, where verbal and physical abuse and discrimination occurs for a majority of same sex attracted students.
"Evidence shows school staff report being more hesitant in dealing with homophobic or transphobic language and behaviour than other forms of bullying due to lack of knowledge and awareness, often combined with an unclear policy framework," the spokesperson said.
"This means that if homophobia and transphobia are not specifically and deliberately named in school policies, it is often the case that no action is taken to address the issues."
The spokesperson added that as a result, the Department of Education and the Victorian Government had both recognised that "a specific program that addressed homophobic and transphobic bullying was needed, and thus funded Safe Schools Coalition Australia".