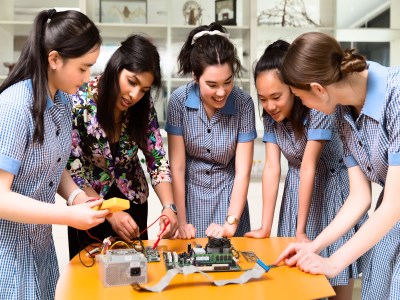 Camberwell Girls Grammar School, located in Melbourne's eastern suburbs, has embraced the services of global ICT provider, Dimension Data, to boost the STEM skills of its students.
The model – which enables students to collaborate in the classroom on their own devices – will soon become the norm rather than the exception as the education sector continues to embrace the power and potential of digital learning.
Dimension Data
, a global ICT solutions and services provider, has enabled Camberwell Girls Grammar School to engage with experts across the globe and prepare students for the modern workplace with the implementation of Cisco collaboration and networking equipment.
The school's principal, Debbie Dunwoody, said the school had invested $1.1m in technology and professional services in order to transform its ICT environment and prepare students for a workforce currently undergoing major change.
"The rationale was all about educating tomorrow's woman," Dunwoody said.
"We know we're going through a time of rapid change in the world where if we want our students to thrive, we need to teach them the 21st century skills of creativity, collaboration and innovation."
Michael Slip, general manager – communications business unit at Dimension Data Australia, said the school's model meant that students would become better prepared for the workforce of the future.
"Camberwell Girls Grammar School is a shining light. They're an example of an organisation that has really adopted the technology and are extracting the most value," Slip said.
"They've redefined their entire approach to teaching and, in the process, prepared students for the environments they'll be employed in later in life."