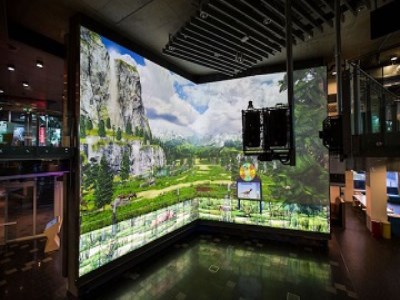 A recent
survey
into education technology found that by 2025, the key methods by which students will engage with material and content will be through real-time video collaboration and mobile devices.
Accordingly, an emerging challenge for schools will be around what tools and techniques to use in order to make this transition smooth and successful.
With this in mind, the Queensland University of Technology (QUT) is planning a research project which aims to enhance the way that visual data is displayed and delivered in classrooms across Australia.
A pilot of the project – which involves the QUT, the state's Department of Natural Resources and Mines and the Cooperative Research Centre – will be launched in Term 3 next year and look at how to create the tools and techniques for "spatial data visualisation" in a classroom setting.
Gavin Winter, visualisation and e-research manager at the QUT's Institute for Future Environments, told
The Educator
that the project reflects the ways in which technology continues to shape the education sector, both in universities and K-12 schools.
"At QUT, there is a huge migration into the online environment…we're plugged into space-planning and technology adoption," he said.
"Since 2012-2013, we've set an example of what it means to break out of the traditional lecture theatre and K-12 classroom."
Taking data visualisation to the next level
QUT recently installed three Panasonic PT-RZ12K laser projectors to provide a seamless
edge blending display
with stereoscopic 3D capability within The Forum - located adjacent to The Cube digital learning space at its Science and Engineering Centre.
The Forum is a specialist facility designed to host collaborative forums with and between scientists, business and government as well as community workshops, and professional education programs.
The 12,000 lumen PT-RZ12K laser projectors selected for The Forum provide the immersive and detailed images required by the University to enhance the learning experience and deliver better research outcomes.
"The Forum is all about using technology to address the challenges of the world through visualisation and collaboration, by getting teams together to look at immersive media in 3D," Winter said.
"Traditionally, visualisation suites are quite small. We're now able to have up to 100 people looking at high-resolution data sets at scale, which makes it more effective to convey an idea or review a problem, and the audience can leave being more empowered to make a decision."
Greater skills spread required
With the proliferation of digital devices in schools across Australia, Winter said one of the biggest challenges for educators will be to spread technical skills evenly among staff in order to reduce over-reliance on one or two tech-savvy teachers.
"An outcome I would like to see is a commitment towards sustaining these sorts of tools and technologies within the curriculum but not relying on one or two particular teachers," he said.
"We have to invest in teaching staff and the capabilities and skills of teachers so that they're comfortable with using the tools. This also plugs in with other initiatives like 'teaching the teachers'."
Winter pointed out that the outcome of the study would hopefully point to solutions that would negate the need for principals to introduce time-consuming training courses for staff.
"It shouldn't be a burden on a principal or a school itself to train. There are other resources they can fall back on. That's all part of the study and what is required to deliver these sorts of things," he said.