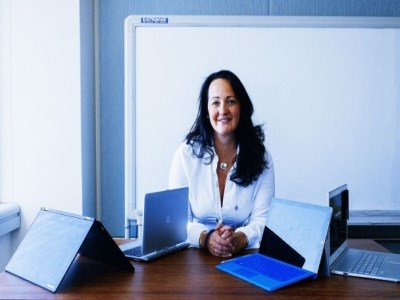 Kate Burleigh, managing director of Intel Australia, was a keynote speaker at Monday's Intel-sponsored event, 'Creating and Innovating with Technology in the Classroom: an Afternoon with Gary Stager'.
The event highlighted how Science Technology Engineering Mathematics (STEM) education is being revolutionised through students' creative use of coding, augmented reality and robotics.
The one thing that's missing, Burleigh said, is greater participation from teachers to help accommodate the burgeoning student interest in these learning areas.
Burleigh said a major challenge in getting teachers inspired by the benefits of STEM are the considerable time-constraints due to the busy nature of their role, but added a range of
tools and resources
are available to assist in teachers' professional learning of STEM.
"One of the biggest challenges in getting teachers inspired is that they've got so many pressures on their time," Burleigh told
The Educator
.
"We're trying to cut through to teachers and let them know that there are a lot of great resources that are already available to them. They don't have to start from scratch."
Burleigh said that Intel has been helping teachers develop a curriculum that will encourage student engagement in STEM areas.
"One of those ways is working collaboratively with teachers to develop the right sort of curriculum that will inspire students to continue their learning around STEM-based subjects," Burleigh said.
"Another area we're focusing on is hands-on learning in the classroom. For many years we've been talking about the importance of coding and knowing not just how to consume computing but also how to create with it."
Burleigh said that with the advent of the
Maker's Movement
, schools are now able to meld those learning areas together and get students using technology that includes microprocessors, used to help them build their own technology-driven projects.
Figures released by the Australian Bureau of Statistics (ABS) in March revealed that STEM skills jobs grew at about 1.5 times the rate of other job categories in recent years – by 14% compared to 9% between 2006 and 2011.
A
report
later released by the Australian Industry Group (AIG) – which has been advocating a stronger national focus on the individual and economic benefits of STEM – said the ABS data strengthened the case for action.
"We need co-ordinated efforts to increase education participation in concert with industry,"
AIG chief executive, Innes Willox, stated in the report.
"The data is in. We have the knowledge. Now it is time to act for Australia to become a strong STEM economy."