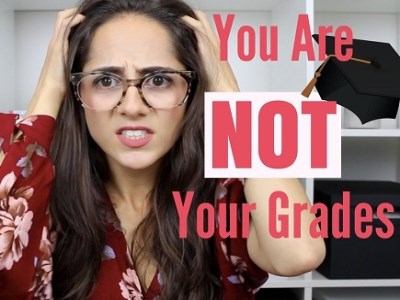 As students head back to school for another year, many are walking into high school for the first time – and many of these students will have preconceptions about high school that focus on stress and anxiety.
Recognising this, Deakin University graduate, Jessica Holsman, developed a creative and interactive way to reassure students that while high school might be an unfamiliar environment, it is also a fresh start that comes with some inspiring possibilities.
After completing her postgraduate diploma in Psychology, Holsman used the skills she learnt at university to create a successful YouTube channel, called
Study with Jess
that explains how to make the most of high school and, along the way, realise social and academic success.
So what are the typical concerns of a student starting out at high school?
According to Holsman, when it comes to starting high school, a lot of her viewers tend to raise anxieties around being in an unfamiliar environment, as well as worrying about whether they will be able to manage the increasing workload they will soon face.
"I try to remind them that change can be a positive experience and offer room for personal growth; that a new environment can mean a fresh start," Holsman told
The Educator
.
"It's also important to be mindful that it takes time to adjust and that everyone is in the same boat, all wondering how they will manage to navigate through their first year of high school."
Remember that change is inevitable
Holsman said that it's important for students to come to terms with the fact that change is inevitable and that they cannot always be in control of what is going on in their lives.
"I remind students that many changes can be positive such as starting high school. It's an important transitional period in a student's life and offers exciting new opportunities for socialising, maturing, learning new skills and forming new memories," she said.
"If life were stagnant it would surely be uneventful. I had some of my most memorable moments form in my high school years."
Think about what you have to look forward to
For those who feel the weight of the world on their shoulders when starting high school, Holsman said it can help to take a moment and think about what they have to look forward to.
"Writing down what they are excited about, whether it be to get involved in the school play, go on camp, learn a new subject, improve their grades or make a new friend can help to shift their mindset into a more positive and constructive one," she said.
"I also strongly suggest they accept and acknowledge the nerves and feel comfortable to open up and talk to someone. Whether it's a family member, teacher or close friend, seeking support and reassurance can make students feel less alone as they adjust during the first few weeks."
Holsman points out that the people we confide in can also provide some tips to manage shaky nerves too.
"It can be easy to intertwine grades with self-worth, however, this mentality is very dangerous as it emphasises the need for students to strive for perfection in order to feel good about their selves," she explained.
"Grades and exams needs to be framed or communicated to students in a way that encourages them to view them as just that – a means for teachers to quantify how much information the students have retained, how effectively a student has studied, and how well the information was perhaps taught as well."
Showcase your knowledge
Holsman said exams are an opportunity for students to showcase their knowledge, while assessing their own progress and setting individual goals for themselves over the school terms.
"They need to be viewed separate to a student's self-worth and personal identity," she said.
Holsman added that students who shape their perception of themselves based on grades can leave many lacking confidence when they do not receive the grades they want. Instead, they should see this as an opportunity for improvement and re-evaluation of their study habits and academic goals.
"By reframing exams from being a means to evaluate the students, to a more positive and optimistic opportunity to set and achieve 'goals' throughout the term, I would hope that the negative connotation of exams can be turned into something more constructive," she said.
Related stories
:
Beating the back-to-school blues
Why aren't our children being heard at school?