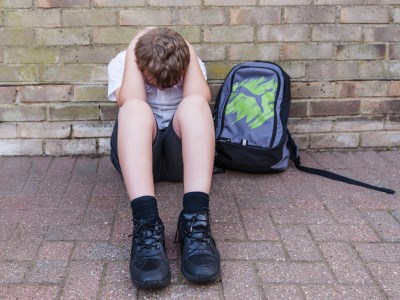 Can anybody hear me?
Six-year old Liam was excited about the new school year. He knew his way around the playground and had lots of friends. But just weeks into first term, the West Australian second grader started coming home from school saying he was dumb and showing symptoms of distress. He was irritable in the mornings and did not want to get dressed for school. He felt sick, repeatedly complaining of tummy-aches.
One Friday afternoon it got too much. Arriving home from school, he started hitting his head with his fist and screaming, "dumb, dumb, dumb". He was highly agitated and frothing at the mouth. Alarmed, his mother called a private psychologist, who heard Liam's experience of what it was like in his new class, and he eventually calmed down.
When Liam's concerned parents met with the principal of the Christian private school seeking he be placed with a different teacher, they were advised it wasn't an option. The implication was that the problem lay with Liam.
Digging deeper, Liam's parents found other students had been through similar experiences with the same teacher. Scared of re-traumatising their son by sending him back, Liam's parents moved him to the local primary school. He is much happier.
Across Perth, at a local public school, first-grader Skye has presented her first "news" item to the class.
Twelve-months ago this was unimaginable.
At the start of her pre-primary year, Skye was a normal five year-old who was shy with strangers. But within a term, she had stopped speaking in class. She felt so scared that she couldn't speak to answer the teacher's questions.
When the teacher expressed concerns that Skye had severe learning problems, her parents sought the advice of a private psychologist. It was thought Skye had the anxiety-related condition selective mutism.
At the start of Year One, Skye did not speak in her new class. But with the support of the psychologist, selective mutism specialist and new teacher, who offered discipline and a caring attitude in a structured environment, that all changed within a matter of weeks.
Liam and Skye are just two students whose pain in the classroom went unheard. Without a voice, they developed distress symptoms and were labelled "problem children".
Students and teachers are engaged at school when they feel capable, listened to, accepted, safe and included.
[1]
At least one in five Australian students feel like they "don't belong" or don't like school.
[2]
A common theme is that children don't feel heard in class.
[3]
Why Aren't Our Children Being Heard?
The reason children are not being heard in every classroom is that educators are not trained in how to connect with their emotions to enable deep hearing.
Teachers (and parents) often look for a diagnosis to explain disruptive behaviour assuming something is wrong with the child, instead of being interested in the child's perspective.
[4]
Until recently, emotions were thought to get in the way of learning. But research confirms that emotions underscore attention, perception, memory, decision-making and creativity—all essential in education.
[5]
Crucially, emotions create and cement beliefs,
[6]
which drive teachers' instructional behaviour.
[7]
These beliefs are often implicit: teachers don't know they have them, and may not consciously want to have them.
Basic underlying beliefs that prevent adults from hearing children include that a child is "naughty", has a psychological disorder or learning disability, or comes from a broken home. Blaming the child is common.
The demands on teachers are greater than they've ever been. However, teachers rarely receive training to promote their personal development: they're simply expected to arrive at the profession with the emotional skills to create a nurturing classroom.
[8]
Current approaches to teacher development do not enrich teachers or students.
[9]
Teachers need training that supports their emotional development to identify and challenge the unconscious beliefs that drive counterproductive action.