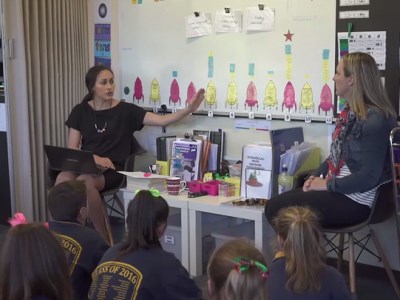 Last week, the Australian Institute for Teaching and School Leadership (AITSL) and Evidence for Learning announced that they had teamed up to create new feedback resources for schools.
The partnership has developed new resources designed to support "a whole-school" approach to enhancing teachers' feedback practices with students.
The new evidence-based materials, which are free to access from the AITSL website, includes a 'Spotlight' research summary, video and written case studies profiling schools already embracing effective feedback practice, and implementation and evaluation tools.
Eastbourne Primary School, located in Rosebud, Victoria, was part of AITSL's case study, featuring the effectiveness of these practices.
Over the past six years, the school has developed an evidence-based learning culture with a focus on feedback and data collection to track student progress and to determine the next steps in learning.
The school's deputy principal, Hugh Greer, said his 39 staff and 408 students have seen the low-SES school's outcomes improve from being in the bottom 20% in the state to the top 10%.
"When I first came to the school six years ago, the principal had already done a lot of work at the school around trying to personalise learning for students," Greer said.
"My background as a pedagogy coach meant that I was able to bring in some ideas as to how we could turn that personalisation into a reality. Feedback and the use of evidence is a really key part of that."
Over this time, Greer said the school has been able to use feedback and evidence in a strategic way to drive improved teaching and learning outcomes.
Pointing to an example, Greer said teachers work collaboratively to review data and plan learning sequences. In-class practices include visual representations of learning continuums, peer feedback, self-assessment and conferencing.
Along with anecdotal records, teachers also use a range of sources of feedback on the effect of teaching, including teacher judgements against the Victorian Curriculum, NAPLAN assessments and regular school-based assessments.
These results are then used to inform ongoing professional learning and development, as well as identify students who need additional support to make progress in their learning.
"Like most schools in Victoria, we do the Attitude to Schools survey, and one of the biggest differences we've seen over the last six years is that students are much more motivated and engaged in their learning than they were previously," Greer said.
"We've also seen a big improvement in parents' perceptions of the school and how learning is happening in our classrooms – and that can make a significant difference in a low-SES school such as ours."
Greer said staff have become more cohesive and happier as a result of getting feedback about the impact they are having in the classroom.
The pillars of an effective feedback process
Greer said first and foremost, it's important that schools use an evidence-based approach to measure teaching and learning outcomes.
"If you don't have a good system for collecting evidence, it's hard to develop a feedback culture, so making sure that you gather evidence of progress is very important," he said.
"It's also important that principals establish a culture in the school that is about learning. Learning environments are not just for kids, but for staff also."
Greer said teachers need not just the capacity to try different things in the classroom and evaluate the impact but to be encouraged to learn about their own practice.
"Here at Eastbourne, we're not using data to beat people over the head, but to help staff see their impact on teaching," he said.
"Traditionally, teachers haven't had these skills as part of their arsenal, so giving them the tools they need to develop things like literacy and the capacity to analyse data is a crucial step in setting up the conditions for feedback."
Greer said a healthy culture of coaching and feedback is now firmly embedded across the entire school.
"We've been doing it for long enough now that it's no longer me going to staff and giving them for feedback – they're coming to me and asking for it."