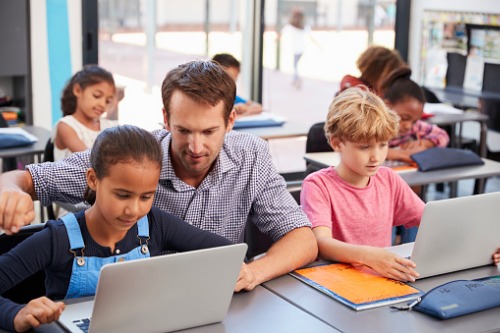 This week, it was announced that millions of dollars of government funding had gone unspent by NSW public schools this year because over-burdened principals were struggling to deal with complex budgeting systems. Education department figures showed these schools had accrued $1.3 billion at the start of this year. Schools are able to apply to spend this money on extra support teachers, professional develop or equipment. What a difference it could make to the public schools of that state!
And it goes untapped because, like the majority of jobs in the education sector, the principal's role has expanded to the point where it is overwhelming. It seems not a week goes by without news coverage of the increasing workload of teachers and principals. It's not just the administration that goes with teaching a class or running a school. It's the increasing burden of recruitment, budget balancing and project management. These tasks are absolutely critical for driving success for schools in Australia's education sector but the sector itself has not evolved to take this into account.
The sector's sluggish embrace of education technology is a key part of the problem. EdTech is hugely under-recognised in Australian schools today because the education sector is depressingly slow to embrace better processes. Adoption of these processes can make a huge difference to how schools are run and the job satisfaction of the teachers and principals within them.
For example, principals spend hours every day filling vacancies left by teachers who are unable to come to school. Relief teachers spend hours every day waiting for phone calls to alert them to vacant positions they may or may not be able to fill. The teachers who are unable to come to school spend hours worrying about their class and if a relief teacher will be able to be found. All of this stress and wasted time can be avoided through the adoption of education technology platforms and tools that are widely available to solve this very problem.
Resistance to change is one reason why EdTech is not more widely taken up but the main reason, I believe, is lack of government support. State and federal governments need to do more to support and educate school staff about education technology and how it can ease the administration burden. It needs to support Australian education technology companies so they continue to create tools and platforms that address pain points within the education sector.
The benefits of embracing better processes can have a huge impact not only on schools but on the relatively nascent education technology sector. As the Australian Trade and Investment Commission (Austrade) notes, Australia already has a reputation domestically and internationally for delivering high quality education which can easily be translated to the EdTech industry. Recent analysis from research firm Frost & Sullivan tips the market to grow to $AUS1.7 billion within two years amid increasing student demand for education services and competition among institutions.
An important advantage of the EdTech sector traditionally has been that contracts within the industry can be extremely lucrative. Private school conglomerates can roll out technology to multiple schools instantly. Government contracts can be worth tens of millions of dollars. Last year, the New South Wales Education Department completed a mammoth overhaul of its legacy finance, human resources, payroll and student administrative systems at a cost of more than $750 million. That contract is, obviously on the larger end, but the smaller contracts for niche groups of schools or even individual schools can be significant too.
The challenge is getting Governments and conglomerates to recognise they need to embrace new technology. In my experience, international schools are ahead of their domestic counterparts when it comes to recognising this opportunity and Australian schools could learn from this. Teacher retention rates are higher and so is the adoption of EdTech. The connection is not ambiguous. EdTech can streamline often boring, time consuming processes that suck up time that should be spent doing the enjoyable part of teaching – being with students and helping them learn. As teachers have found themselves spending more and more time on administration satisfaction levels within the sector have fallen. The profession itself is also starting to become affected with universities warning of a decline in education students which will see a major shortage of teachers over the next four years.
Changing the way we think about education technology is a conversation that must be had and it's largely up to the Government to lead the way on this. Education spending has been stagnant for decades and the most minute percentage of it is spent on EdTech. It's no secret that Australia as a society embraces technology (according to the Economist, we have more computers than students!) but we are slow to innovation. That should not be taken lightly. Time and again, we have seen there is a staggering reluctance within the education sector to embrace technology that is used outside of the classroom. There's no doubt, money needs to be spent on technology that helps students learn but making schools more productive is also hugely important. Software that streamlines time-consuming administrative processes saving teachers time can only be to the advantage of students. Teachers then are able to spend more time teaching, and are generally more fulfilled. More fulfilled teachers means more teachers remaining in an education sector that badly needs them.
Rob Graham is the founder and Managing Director of technology-based recruitment platform Schrole.