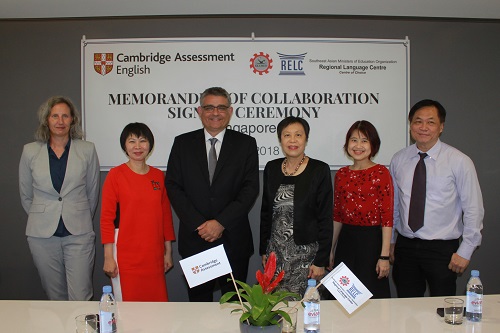 Cambridge Assessment, a not for profit department of the University of Cambridge, has signed a partnership with a regional language centre to better support teachers and bolster the learning of English in Southeast Asia.
Last week, the non-profit organisation signed a Memorandum of Collaboration with SEAMEO Regional Language Centre (RELC). The partnership will promote the Cambridge CELT-P and CELT-S qualifications that improve the professional skills of primary and secondary English teachers.
It will also give greater access to the Cambridge English Qualifications (CEQ) – internationally recognised exams covering all levels from children to adult learners that ensure learners develop necessary skills to effectively write, read, speak and listen in English.
"Cambridge English is committed to helping people to learn English and prove their skills to the world," said Saul Nassé, group chief executive at Cambridge Assessment. "We are delighted that our partnership with SEAMEO RELC allows us to provide first-class professional development for teachers who are a gateway for students to upskill themselves through the English language."
Susan Leong, SEAMO RELC's director and CEO added that the partnership will help improve teaching quality for the English language.
"English is a top priority for education systems in our region. We want to increase the level of teaching skills in our schools while giving students access to CEQ to ensure that they are learning practical English language skills to help them in their education and professional lives," she said.
SEAMEO RELC is an educational project of the Southeast Asian Ministers of Education Organisation. It represents countries such as Singapore, Malaysia, Thailand, Brunei Darussalam, Cambodia, Indonesia, Laos, Myanmar, the Philippines, Timor-Leste and Vietnam.
Related stories:
English learners: what principals should know
Activist group calls for revival of English schools