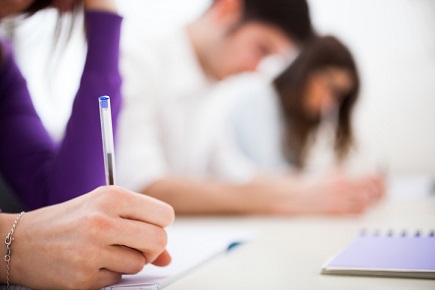 Are schools testing children too early?
Some people think that testing children earlier is long overdue, arguing that the earlier they are tested, the better they will fare in exams.
Others think such testing at an early age is harmful to young children's confidence at a time when they need to adjust to new surroundings and new ways of learning.
Children in Finland – a country known for its educational excellence and innovation – are given the option of starting school at age seven. What's more, they are not exposed to any standardised tests or rankings.
So what benefits does this have?
In the 2015 PISA, Finnish students reported close to the highest level of life satisfaction out of participating countries, and the lowest level of schoolwork-related anxiety.
While Singapore tops the PISA tables, concerns that testing children so rigorously may have a long-term impact on their health and happiness.
In Singapore there are six years of primary school, four years of secondary, and between one and three years of post-secondary school. Students undergo two major exams before even leaving primary school.
In the UN's 2016 World Happiness Report, Singapore ranked 26th, while Finland ranked fifth.
In 2016, Singapore's Ministry of Education (MoE) announced that a new scoring system would come into effect in 2021. The MoE new system would reduce stress by encouraging students to focus on their learning rather than competition with their peers.
In Australia, a 2016 report, commissioned by Victoria University, said reducing the age at which children undertake formal education has shown to improve learning outcomes.
"We've spoken to preschool teachers and child development experts in Australia and there's an overwhelming consensus that two years of preschool gives children the best start," Dr Stacey Fox, the University's Mitchell Institute, said.
However, according to Australia's Early Childhood Teachers' Association (ECTA), formal lessons being taught in many prep classrooms are making it difficult for children to succeed
"The more formal pedagogy being taught in many prep classrooms and the over-crowding of the curriculum in prep has made it difficult for many children to succeed, develop a love of learning, positive attitudes to schooling and learning," ECTA president, Kim Walters, told The Educator.
"This is no fault of the child. The environment and expectations are being imposed on them. We were very pleased to see the age-appropriate pedagogy research project being carried out by the department last year and extended into this year."
In the UK, there are plans by the Department of Education to roll out the testing of four-year-olds in their first weeks at school. The announcement has been met with hostility from many teachers who have vowed to oppose the new assessments.
Ministers say the controversial new baseline assessments in reception classes will measure the progress a child makes from the start of primary school to the age of 11 and provide a fairer measure of the effectiveness of schools.
Neil Leitch, chief executive of the charity the Pre-school Learning Alliance, told The Guardian that the tests are too much too soon.
"These tests will pile pressure on to our very youngest children: from those forced to sit an exam at the tender age of four to those in settings under pressure to get preschoolers test ready," Leitch said.
Related stories: