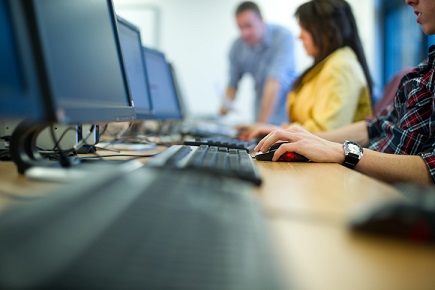 Global Indian International School (GIIS) will be opening the first fully SMART campus in Singapore this year.
The seven-story school will house more than 130 "virtual classrooms" – each equipped with e-learning capabilities as well as interactive TV display panels, tablets and projectors.
The virtual approach gives students access to a network of specialist faculty members and the opportunity to collaborate with students from GIIS campuses spread across seven countries.
"The main idea behind setting up the SMART Campus was to merge NextGen techniques for 21st century learning outcomes," GIIS chairman Atul Temurnikar told The Educator Asia.
"By that we mean that the latest tools were to be provided to students to ensure that what they learn in schools will have practical implications and uses when they enter the workforce nearly 15 years later."
With the vision in mind, GIIS leaders and faculty members held brainstorming sessions over a period of two years to decide how to best deliver such an education to students, he shared.
The planning process involved teachers' insights into the type of resources and curricula needed, while leaders provided ideas on the infrastructure required to make the project a success.
GIIS tapped on the expertise of leading architects from the US, Australia, Japan, Malaysia and Singapore to design the campus.
The architects helped the team overcome the challenge of "physically translating" GIIS's 9GEMS pedagogy which aims to provide students with a holistic approach to learning.
In addition to regular science labs, the SMART campus will have labs for students to explore their interests like culinary, robotics and artistic spaces – to ensure a holistic education.
The school also has three centres of research excellence focusing on entrepreneurship and innovation, robotics and artificial intelligence, and design technology.
Other campus features include 40GB fibre broadband connectivity, sports data analytics and smart safety features like facial recognition. The entire campus will also be supported by green initiatives.
"School structures have changed over time. They are no longer just four walls with desks and benches and textbooks," Atul said.
"Also with information flowing in from all directions through many mediums nearly every minute, capturing the attention of students to impart important and necessary knowledge has also become a challenge.
"At the same time, it is necessary to remember that technology is meant to assist teachers and not to replace them. At GIIS, we strived to strike a balance between a well-designed curriculum delivered in an effective manner for better outcomes."
Teachers were trained "well in advance" to cope with the tech overhaul at the SMART campus. They also have access to a dedicated training academy and a network of education experts and consultants to help them keep abreast with the latest industry practices.
GIIS is currently conducting open houses for the SMART campus. Phase 1 of the school will accommodate 3,500 students who can take up the IB, IGCSE or CBSE curriculum. The campus will also offer the Montessori kindergarten program.
Related stories: