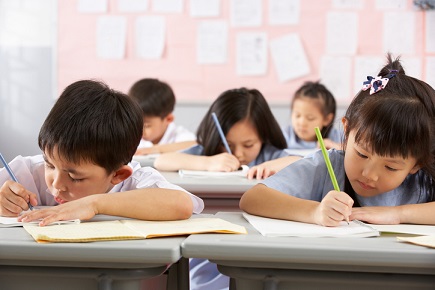 A new international comparative study shows that Hong Kong has dropped to third place in reading literacy, two points lower than the previous edition in 2011 when the city was ranked first.
The Progress in International Reading Literacy Study (PIRLS) 2016 results show Hong Kong with an average score of 569, behind Russia with 581 and Singapore with 576.
The survey, which assesses the reading comprehension level of Primary Four pupils worldwide, looked at 50 countries and regions.
In Hong Kong, a total of 139 primary schools were selected to participate in the study, with at least one Primary Four class in each selected at random. A total of 3,533 pupils took part.
Two comprehension passages in Chinese – one informative and one literary – were used as test materials.
The pupils, and 3,499 parents, 159 Chinese language teachers and 138 principals from the participating schools, also answered questionnaires about students' attitudes towards reading, home and school environments, curriculum and pedagogy.
While the slight dip in the average score for Hong Kong was statistically insignificant, Professor Tse Shek-kam from the University of Hong Kong's faculty of education and who led the investigation in the city, warned of stagnation.
"We dipped slightly because of [Russia and Singapore] improving ... we cannot stop," he told the
South China Morning Post
.
Tse said it was due to Hong Kong not improving in terms of parents' reading interests and home education resources.
A total of 21% of pupils in the city had many home education resources, such as a table to read at, books and internet access – only slightly higher than the international average of 20%.
"This could be due to the small living spaces in Hong Kong," Tse said.
"Many pupils do not have their own table at home for reading, which is important for them to focus."
While parents who really like reading have children with a higher attainment, only 17% of parents are in this category, lower than the international average of 32 per cent.
Tse added Singapore's good performance could be attributed to its efforts to promote reading, such as having a reading expert in each school.