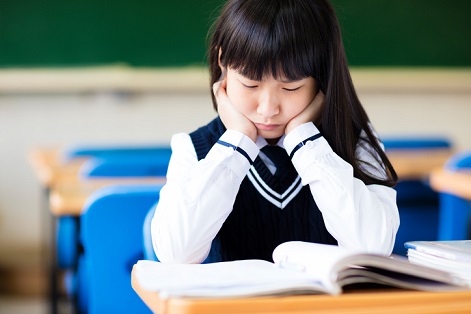 Hong Kong students aged nine and below have shown a sharp decline in happiness levels, according to recent research by a team from Chu Hai College of Higher Education.
Overall, students from 11 primary and eight secondary schools showed a slight drop in happiness in the last academic year.
Researchers are attributing the growing unhappiness in Hong Kong schools to pressure from schoolwork and extracurricular activities. This was found after over 3,500 students were surveyed.
The college's director of polling and public opinion centre Professor Ho Lok-sang was hoping for improvement as the latest findings were lower than the previous year's, but he said that rising pressures have taken their toll.
He was especially surprised by results from younger students.
"I had attributed this to perhaps the prevailing culture of parents to have kids win on the starting line, so they put a lot of pressure on their kids at very young age," he said.
"Schools do the same, perhaps reflecting those values. I know that some schools actually try to teach material of a senior class to junior grades, and that's really quite unreasonable."
To ease the pressures of the drilling culture in Hong Kong schools, Ho is hoping that schools formally incorporate lessons like personality development into the curriculum.
He added that other factors contribute to children's happiness, including their family life, having enough leisure time and having space in the neighbourhood to play with friends.
Are schools doing enough to help alleviate students' stress levels? Share your thoughts below.
Related stories:
Hong Kong still at a loss over stress epidemic in schools
Research highlights tragic impact of school stress