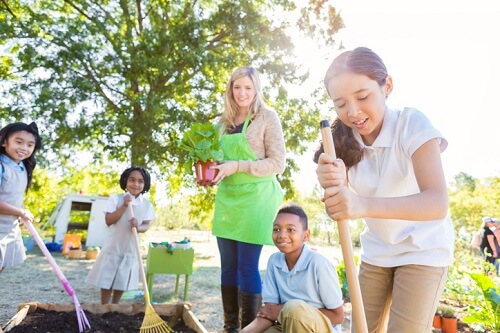 In today's constantly switched-on and heavily digitised schools, the peace and tranquility that nature brings can seem a world away.
This is particularly true for school students, with reports showing an increase in anxiety and depression among young people.
While some researchers have suggested banning phones and other digital devices from classrooms, others see value in teaching young people about the value of outdoor education – especially in the context of mental health and personal development.
Looking into this topic recently were Brad Daniel, professor of outdoor education at Montreat College, Andrew Bobilya, associate professor and program director of parks and recreation management at Western Carolina University and Ken Kalisch, associate professor of outdoor education at Montreat College.
They say that for many people today, smartphones demand their attention day and night with constant notifications. As a result, naturally occurring periods of solitude and silence, that were once commonplace, have been "squeezed out of their lives".
"While some equate solitude with loneliness, there is a big difference between being lonely and being alone. The latter is essential for mental health and effective leadership," Daniel, Bobilya and Kalisch write in The Conversation.
"Our studies showed that people who took part in [outdoor] programs benefited both from the outdoor settings and from the experience of being alone. These findings build on previous research that has clearly demonstrated the value of spending time in nature."
In Scandinavia, outdoor play is something that schools take seriously.
Nature-based schools first took root in Scandinavia in the 1960s, before slowly making their way across Europe, where the benefits they brought children were readily accepted.
'Nature School' – a non-profit community-run organisation – was launched in Port Macquarie in 2015 as a means of encouraging student development through play and nature-based learning and exploration
The school currently employs five casual educators and three casual administration officers who oversee three-hour and six-hour outdoor nature play sessions, initially for children aged 3-6 years.
"We all had studied the benefits of an outdoor learning space for children's overall development and knew that this was the way forward," Lloyd Godson – one of the school's co-founders and educators – told The Educator.
Godson said the main appeals of the school, compared to traditional mainstream schooling, were that it offered free and child-led learning experiences, where children are "responsible for themselves, trusted and part of the team".
"Children help creating the everyday rules, they choose how far up the tree to go by analysing their own climbing skills and they know they are valued. Children are learning by doing and by experiencing rather than by sitting on a chair," he said.
"The gross motor skills, cognitive and social skills as well as their problem solving skills developed in an outdoor learning environment prepare these children for today's changing world were thinking outside of the box is the norm."
Related stories:
Is Play-Based Learning under threat?
Should your students be given more breaks?