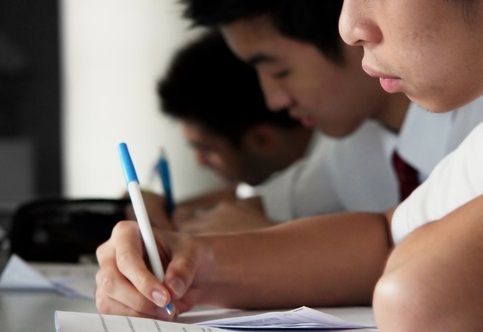 Students in Singapore's international schools celebrated impressive results for the IB diploma program (IBDP) when it was released last week (5 July), with some achieving a record number of perfect scores.
About 24 schools in Singapore offer the IBDP and a total of 33 schools are certified IB World schools. The Educator got in touch with some of the schools to find out how they fared in the exams.
First-timers with first-rate results
GEMS World Academy (Singapore) celebrated its first IBDP graduating cohort this year. Its batch of 18 students scored an average of 31.33 points – above the global average of 29.78.
GEMS said that a majority of the students have been offered places in leading universities in the US, UK and Canada, as well as specialist career-focused programs in Europe.
"We are very proud of our first IBDP graduating cohort," Head of School Richard Henry said in a congratulatory message to the students and teachers. "Thanks to our experienced, passionate and energising educators our graduates were prepared and successful in achieving their goals."
The school had made 32 separate applications to UK colleges this year. About 31 of which had conditional offers from universities such as University College London and King's College London.
Veteran producer of "world toppers"
Another school in Singapore, a veteran in the IBDP, the Global Indian International School (GIIS) had students break records with three of whom emerging as "world toppers" with 45 points and five securing a near-perfect score of 44. GIIS has been offering the IBDP for over 12 years.
GIIS students scored a school average of 37 points, an increase from last year's average of 36. Almost half of the graduating cohort scored more than 40 points.
"GIIS has broken records once again. This is a proud moment for us," said GIIS SMART campus principal, Melissa Maria.
GIIS has produced 11 world toppers since it first offered the IBDP in 2007.
100% success and more record-breakers
Two other schools, Tanglin Trust School (TTS) and Australian International School, both attained 100% passes.
TTS also saw a new record with the Class of 2018 – three students achieved the maximum 45 points. About three in five students scored 38 or more, ensuring a school average of 37.8 points. One student even achieved the prestigious bilingual diploma (Dutch).
"These results are a reflection of the considerable hard work, commitment and effort of our students and staff," said a TTS spokesperson.
Besides breaking the 70% global average with its 100% passes, the Australian International School achieved its highest school average yet – 34.5 points.
One student achieved the perfect point score of 45 and has been accepted into Stanford University to study biochemistry.
Related stories:
Singapore students ace IB exams
Demand for international schools in Singapore growing