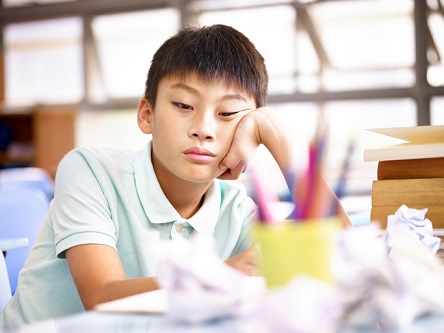 More than half of Hong Kong's primary schoolchildren get at least seven assignments a day, while some spend over eight hours on extra lessons a week, found a survey by the teacher's union.
The union surveyed 425 primary schoolteachers who also said that two out of five pupils have 10 or more assignments to complete over the weekend.
Three out of five teachers said they conducted the extra lessons, with one-third holding classes more than twice a week.
Additionally, 20% of teachers polled said they administered tests weekly or fortnightly.
While wanting to reduce pupils' workload, a teacher said officials had been increasing learning goals. This led to teachers having to arrange more activities and homework to achieve government aims.
Students not only face large amounts of homework, the assignments are also relatively difficult, said Ip Kin-yuen, the union's vice president.
He blamed the situation on an expanding school curriculum brought about by the government's introduction of new requirements in recent years.
Ip, who is also the education sector lawmaker, claims that the Basic Competency Assessment (BCA) as exacerbating a drilling culture in Hong Kong, reported South China Morning Post.
The BCA is widely regarded as a rebranded version of the Primary Three Territory-wide System Assessment (TSA).
The TSA gauged pupils' English, Chinese and maths standards and was associated with teachers drilling pupils amid a widespread belief the education bureau used the results to rank schools.
The bureau has refuted the claims.
The union called for officials to steer a comprehensive review of both the breadth and depth of curricula.
It also urged the government to ensure the BCA was carried out anonymously, without schools identifying themselves on test scripts.
To remove the motivation for drilling, the union also sought assurances that BCA performance reports are not sent to schools.
Officials are set to announce next month whether the test will be continued this year and, if so, in what format.
Related stories:
'So inhumane': Calls for caps on 'stressful' homework
Less homework during CNY, urges minister