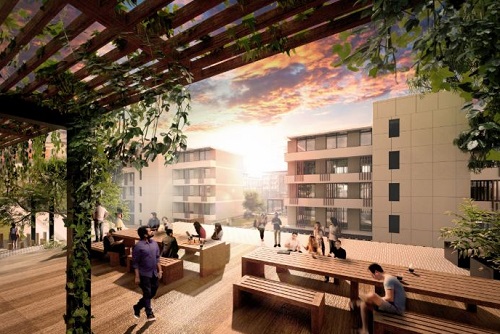 A $1.5bn development has been announced for Flinders University's Bedford Park campus that will see the creation of the biggest integrated education and health precinct in South Australia.
Announced today by Flinders University Vice-Chancellor Professor Colin Stirling with Premier Steven Marshall, the historic ten-year plan for Flinders Village is being hailed as an "economic and social catalyst" for the state.
Independent analysis commissioned by Flinders University indicates the development's potential to bring 5,000 additional international students to Adelaide, improve student accommodation, increase annual education exports by $99m and see the creation of 10,000+ construction 'job years' during the development phase.
The project will leverage the University's existing investments in the Tonsley Innovation District, support the Flinders health precinct and leverage the $125m investment by the federal and state Government in the Flinders Link rail extension that will connect the University's campus with the Adelaide CBD,
The first stage of the project will be a Health Research building with a focus on mental health, infectious disease and personalised health delivery. The facility is expected to be shovel ready in late 2020 and built during 2021-22.
Vice-Chancellor and Professor Stirling said Flinders Village, is a key part of Flinders' overarching plan for growth and development and will "unlock the enormous potential" of southern Adelaide.
"The University will now enter an exciting phase where vision will become reality," Professor Stirling said.
"Flinders University has a pivotal role in South Australia's growth and development, attracting international students, supporting talented researchers and creating a dynamic, innovation-focused community."
Professor Stirling said that in addition to furthering health services and research, the new urban centre with accommodation and retail amenities will benefit the University's Bedford Park and Tonsley campuses, the adjacent hospitals and surrounding suburbs.
"We will run an open process to identify development partners and future tenants, and work with our communities to create a vibrant urban environment which meets their needs now and into the future," He said.
"Flinders has a strong focus on sustainability, and designers will be challenged to incorporate world's best practice thinking into their proposals."
Professor Stirling noted that Flinders University' medical school is the first in Australia to be integrated into a public hospital, putting the University at the core of a health and education precinct that includes the state's busiest hospital, educates the majority of the state's medical workforce and contributes a substantial proportion of the State's biomedical research.
"Knowledge is the key to creating a better world. Flinders Village is an investment in knowledge - making a difference in the education we deliver, the research we pursue and in our support for our community" Professor Stirling said.