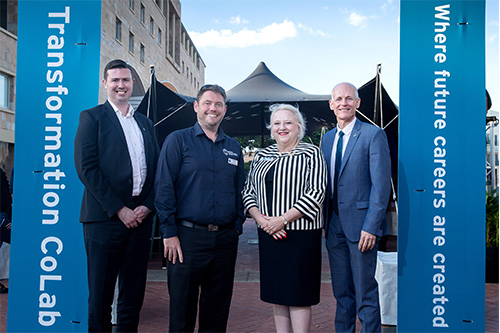 The Federal Government's Employer Satisfaction Survey earlier this year found employers of Bond University graduates were amongst the most satisfied in Australia.
This week, the University took a step to ensuring they stay that way by launching a new suite of degrees to further enhance graduates' employability.
The four "revolutionary" degrees are the Bachelor of Digital Transformation, Bachelor of Entrepreneurial Transformation, Bachelor of Health Transformation and Bachelor of Legal Transformation.
Below, The Educator speaks to Deputy Vice Chancellor (Academic) Keitha Dunstan about the new degrees and how they will help prepare the University's graduates for the jobs of the future.
TE: What are some of the factors that inspired the University to develop these particular degrees?
KD: Mainly, we listened to our industry partners who told us that there were new and emerging jobs that existing degrees did not provide the strongest preparation for. We are also well aware that we are in the midst of the fourth industrial revolution where the digital world and the physical world are merging with an unprecedented rate of change. As with all prior industrial revolutions, it brings with it a lot of opportunities for new jobs and new fields that we have not yet imagined. Rather than being frightened about disappearing or changing jobs we want our graduates to be excited about the opportunities that such change inevitably brings. They will be equipped to ride the wave of change rather than be afraid of it.
TE: The University's CoLab has been called a "game-changer". In your view, what are the most unique and transformative aspects of the CoLab in terms of teaching and learning at the University?
KD: We realised that, if Bond University was to lead the way with forward thinking programs that will equip our graduates for this world of change, we would need to employ modern ways of thinking and doing. This led us to create our 'Transformation CoLab' to provide a virtual space that cultivates enduring partnerships between students, staff, industry and the community. Through working directly with industry in an interdisciplinary setting, the Transformation CoLab creates initiatives and programs that ensure Bond graduates are sought after by employers. Working on real problems and learning in authentic work-place settings are key aspects of our new approach.
One of the ways in which our CoLab is game changing is the multi-stakeholder and interdisciplinary collaboration which assists in generating ideas and in identifying the skills graduate will need to succeed in the global world of the future. Our programs will ensure that Bond graduates are accomplished problem-solvers and innovators who are excellent collaborators, networkers, exceptional leaders and effective communicators. They should have the breadth of knowledge, abilities and skills that enable them to identify the information they need to solve any problem and to create any solution.
TE: Looking ahead, are there any programs/initiatives being planned/launched by the University that will ensure it remains competitive in Australia's higher education space?
KD: Bond University was designed by entrepreneurs and visionaries for the next generation of entrepreneurs and visionaries. 30 years ago we reimagined higher education as Australia's first private, not-for-profit, independent university. Today, we continue to challenge the traditional model for higher education, driving it into new, forward thinking territory.
Ranked number one in Australia for student experience for the past 13 years, we are small, premium, innovative, agile and engaged. The launch of our Transformation CoLab provides a driving force for future innovation and remains consistent with our unique ethos in the Australian higher education sector.