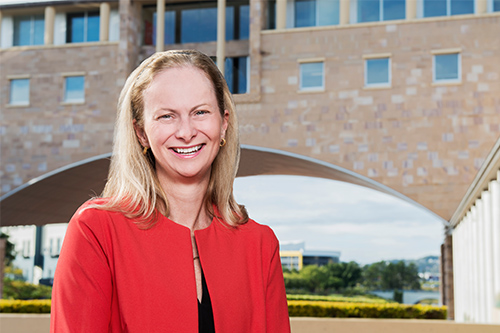 A Bond University academic, who was recently named Australian psychologist of the year, hopes the honour will accelerate the acceptance of 'tapping' as a treatment for everything from smoking to depression.
Associate Professor Peta Stapleton, was recognised with the accolade at the 2019 Australian Allied Health Awards in Melbourne on September 21 and has 25 years of experience as a clinical and health psychologist. She also holds a Bachelor of Arts, a Postgraduate Diploma of Professional Psychology and a PhD.
Dr Stapleton is a world authority on tapping, or Emotional Freedom Techniques (EFT), in which a patient taps their body with two fingers while reciting a statement. This has been found to reduce food cravings and treat phobias, Post Traumatic Stress Disorder, anxiety and chronic pain.
Below, The Educator speaks to Dr Stapleton to find out more.
TE: Firstly, congratulations for being recognised in such a significant way at the recent Australian Allied Health Awards in Melbourne. What does this award mean to you, and to the work you've done in the field of psychology?
PS: Personally, I am humbled and grateful for the recognition, and I was very surprised. Professionally I also feel this award recognises the work we have been achieving in a fairly out-of-the-box area, and my passion for the 4th wave of psychology approaches has been further validated. Sometimes leading new areas outside the mainstream approaches can be isolating but seeing the life changing outcomes in our clients and research participants, and additionally the recognition through this award makes it all worthwhile.
TE: Can you tell us about EFT and why this is such a successful technique in the practice of psychology?
PS: EFT is a body based physical approach to reducing stress – it combines elements of cognitive restructuring and exposure techniques with acupoint stimulation. It is often referred to as 'Tapping' as it uses a two-finger tapping process to tap on acupoints on the body, and it is remarkably fast to work. More than 50 peer-reviewed randomised controlled trials have shown favourable clinical outcomes and I have pioneered the investigation in this 4th wave technique through scientific, clinical trials. When cost effectiveness is paramount for clients and sessions may be limited in a health model, and alternative approaches such as EFT have mounting evidence and outcomes, then we can indeed offer high value care at reduced cost and within brief time frames.
TE: What are the most important ways you feel Bond University has helped support you academically and professionally?
PS: I have been supported 100% in all my clinical trials investigating EFT since arriving at Bond 7 years ago, through media exposure and also faculty funding. We have not only pioneered some of the most interesting clinical trials from Australia, but have successfully conducted and published fMRI brain scan studies of the technique with the support of the university. Given EFT is still not considered mainstream, I could not conduct my research without the support of my head of school and executive Dean.
Associate Professor Peta Stapleton's accolade comes ahead of Queensland Mental Health Week, which runs from October 5-13.