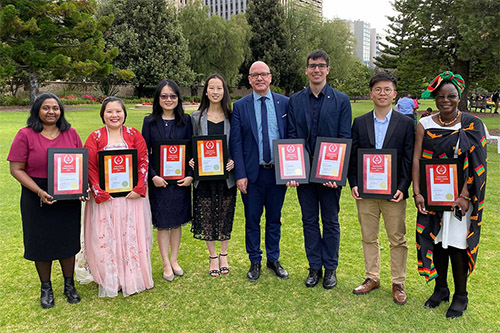 International students from Flinders University have been awarded six of the eight tertiary student categories in this year's StudyAdelaide International Student Awards.
The ninth annual International Student Awards, which were held at the Government House of South Australia, recognise the outstanding achievers among the 30,000 international students from over 120 countries who move to Adelaide each year.
His Excellency the Honourable Hieu Van Le AC, Governor of South Australia, presented awards to the winners in eleven categories including the coveted International Student of the Year.
Flinders University's strengths in international education have seen an increase in international enrolments in recent years. In 2018, the University was recognised through a Business SA Export Award, demonstrating the important role that international education plays within the state's economy.
Hailing from Italy, China, Zambia and India, the outstanding Flinders' students were recognised for their distinctive academic achievements and admirable community contributions.
Italian Alessandro Sereni, 28, was named joint International Student of the Year. Mr Sereni is studying a Master in International Development at Flinders University following a six-month exchange he completed at Flinders during his undergraduate degree.
While studying, the community-minded global citizen has volunteered extensively – visiting aged care residents, mentoring students in Flinders University's Inspire program, and completing a Suicide Alertness For Everyone (safeTALK) qualification.
"The first time I came to Adelaide was in 2012. I lived on campus at Flinders University and had friends from Australia, Singapore, Malaysia, China and Europe," he said.
"Adelaide is such a multicultural melting pot, and I was inspired to see all these different cultures living together side by side and sharing their experiences. Here I can go to cultural events and festivals, which further drive my passion and global mindset."
Flinders students won both postgraduate awards, the joint undergraduate award, community engagement award and the artistic achievement award – also taking out high commendations for postgraduate coursework and artistic achievement.
Sebastian Raneskold, Vice-President and Pro Vice-Chancellor (International) at Flinders University congratulated Alessandro and the other winners.
"The high proportion of honours earnt by our international students is testament to the efforts of our University, with their wins reflecting exceptional academic outcomes and valuable contributions they have made, and will continue to make, to our community," Raneskold said.
He added that Flinders' focus on the student experience and preparing them for the future has been "instrumental" in shaping its growing attractiveness to international students.
"This means everything from personal support to empowering students with a global mindset, vigilantly reviewing the courses we offer, and providing quality practicums and placements," he said.
Flinders' international students' 2019 achievements come off the back of last year's International Student Awards success that saw Himal Kandel win top honour of International Student of the Year and a further five Flinders students take home awards or commendations.
Flinders University winners in the 2019 StudyAdelaide International Student Awards:
Alessandro Sereni
Award: International Student of the year (joint); Academic Postgraduate – Coursework
Nationality: Italian
Course: Master of International Development
Sheela Kumaran
Award: Academic Postgraduate – Research
Nationality: Indian
Course: Doctor of Philosophy
Chenghan Zhang
Award: Academic Excellence Undergraduate (joint)
Nationality: Chinese
Course: Bachelor of Engineering (Civil) (Honours)
Hoi Yan (Kitty) Wong
Award: Community Engagement
Nationality: Chinese
Course: Master of Nutrition and Dietetics
Leslie Nachula
Award: Artistic Achievement
Nationality: Zambian
Course: Master of Education (Leadership and Management)
Highly commended students:
Keren Wu
Commendation: Academic Excellence: Postgraduate (Coursework)
Nationality: Chinese
Course: Bachelor of Clinical Sciences/Doctor of Medicine
Meixi Chen
Commendation: Artistic Achievement
Nationality: Chinese
Course: Master of Social Work (Graduate Entry)
The original version of this article first appeared on the Flinders University website.