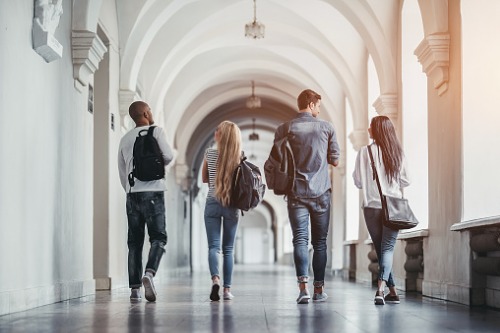 The Good Universities Guide 2020 has been released, revealing Australia's leading universities.
The ratings provide independent five-star performance ratings for every university in Australia, based on student-relevant criteria such as graduate salaries, teaching quality, learning resources and graduate employment rates and more.
The guide, compiled by Good Education Media, found that while graduate employment rates are up for many Australian universities, this year has proved tougher to achieve a five-star rating than last year.
The minimum employment rate achieved by a five-star university is 78%, which is two points ahead of 2018's minimum of 76%, and well ahead of the national average of 72%.
Bond leads in student experience
Bond University was once again named Australia's top university for student retention as students respond to the Gold Coast-based institution's accelerated learning programs, small class sizes and student-centred approach.
The university topped Australia in Learner Engagement, Learning Resources, Skills Development, Student Support, and Teaching Quality, and was best in Queensland for Overall Experience.
Bond's student retention rate is now 16% above the national average, up 2% on the previous year. For the fourteenth consecutive year, the Guide also gave Bond University five-star ratings for both student experience, and overall experience.
Bond University Deputy Vice-Chancellor (Academic), Professor Keitha Dunstan, said the university was proud of the results, which reflected Bond's ongoing commitment to its students.
"We provide a superior student experience that ensures the best possible learning outcomes for our graduates," Professor Dunstan said.
"Students come to Bond because they understand that we value them as individuals and that our academics will partner with them to ensure they achieve their goals."
Bachelor of Journalism student, Mia Adams, felt Bond's lecturers and staff went the extra mile to help her succeed.
"You can feel from day one that your career is going to be taken seriously and that the teachers will do their best to help you achieve your goals," Adams said.
"Within my first semester, lecturers were putting themselves out to help me gain internships and real-world connections."
Charles Sturt tops the list for graduate employment
Another star performer was Charles Sturt University, which topped the graduate employment ranking.
The guide revealed 86% of Charles Sturt graduates are in full-time employment within four months of completing their course – a superior rate to any other Australian university.
That figure is a massive 14% higher than the national average, and also an increase on the University's result in the 2019 guide (85%), which also placed Charles Sturt at the top of the publication's rankings.
Vice-Chancellor Professor Andrew Vann said the result was "testament to the University's continued push for educational excellence".
"Charles Sturt University is dedicated to equipping our students with the skills and know-how required to thrive in the modern workplace and across a broad spectrum of industries," Professor Vann said.
"The University's outcomes in the 'Good Universities Guide' indicate that employers across Australia and internationally have no doubts that we are achieving this goal."
He added that the University's alumni have a "proud history of swiftly realising their career goals and contributing to their communities in meaningful ways".
UOW best across multiple catergories
The annual publication ranked UOW first in NSW and gave five-star ratings for the categories of Staff Qualifications, Skills Development, Learning Resources and Learner Engagement.
The University's ranking of first in the state for Staff Qualifications means it has a greater proportion of staff who hold a masters or doctoral degree than all other NSW universities.
UOW also received the highest possible rating of five stars for the critical category of Student Support. This rating indicates high levels of student satisfaction with the support they receive from the institution, including efficient enrolment and admission processes, helpful orientation activities and helpful staff, including career advisers and academics.
The University's Vice-Chancellor, Professor Paul Wellings CBE, said this year's impressive results were yet another confirmation of UOW's commitment to its students.
"I want to acknowledge all staff for their unswerving commitment to excellence in teaching and learning," Professor Wellings said.
"The support our students receive through teaching, resources and skills development is a testament to the hard work of our staff at every level."
Cairns universities shine bright
CQUniversity (CQU) and James Cook University (JCU) each scored five-star ratings for employment outcomes and social equity.
CQU scored first places for both categories in the 2020 guide.
The University's Vice-Chancellor, Nick Klomp, said CQU has become a "beacon" for removing participation barriers to world-class training and education.
"This is particularly been the case amongst under-represented groups and under-serviced communities," Professor Klomp said.
"Today's rankings really honour and cement that vision."
The 2020 guide found that 79% of JCU's students are getting full-time work in the first year after graduation, with $62,000 the average starting salary.
The University's Vice-Chancellor Professor Sandra Harding said to achieve 5 out of 5 for graduate employment for the ninth year in a row was "a great achievement that highlights the University's teaching and research excellence".
"Our graduates continue to be in demand with strong career prospects, which shows the high quality of education that the University offers," Professor Harding said.
Most students happy with quality of teaching
Among five-star rated universities, a minimum of 83% of surveyed students reported satisfaction with teaching quality. This is marginally ahead of the national average of 81%. Dentistry students were the least impressed with teaching quality, but still recorded a 73% rate of satisfaction.
Ross White, Head of Product at Good Education Media, said that while universities are offering positive experiences and strong employment outcomes, they're also delivering to an increasing number of students.
"Between 2012 and 2017, the number of students commencing bachelor's degrees rose by 13% – that's an extra 40,000 students," White said.
"By 2029, Australia's Gen Z (born between 1995 and 2012) will have filtered through the school system and transitioned to first-year university, increasing the number of domestic commencements by around 30% – approximately 30,000 additional students."
The next 10 years will see a period of competition and intense innovation, as universities work hard to deliver the same high standards of experience and employment outcomes to more students.