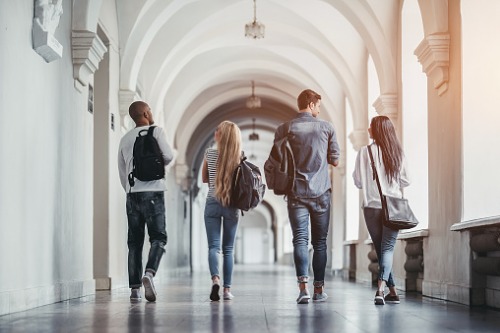 With the rapid pace of technological and societal change, imagining what the future might look like for Australia's universities is a daunting exercise.
Just as education policy and enrolment trends in the school sector is shifting, the higher education space is experiencing various shifts in these areas also, presenting some interesting challenges for universities seeking to remain competitive.
According to Professor John Fischetti, Interim Pro Vice-Chancellor of the Faculty of Education and Arts at the University of Newcastle, universities must transform into very different entities in order to remain relevant.
"Universities require new business models that foster innovation and embrace the interconnection technology offers, and they will need to do so quickly," Professor Fischetti recently wrote in The Conversation.
"With a population of 25 million people, does Australia need 40-plus universities?
Probably not if it means 40-plus big stores whose business models require mass lectures in the first year, bolstered by increasing international student enrolments to fund high infrastructure and staffing costs."
However, Professor Fischetti said there is a bright future ahead if universities "redefine themselves beyond the rhetoric of value propositions and marketing schtick" and fully embrace three key pillars.
The first, he says is promoting engagement and impact.
"Students of any short course, module, certificate or degree should have meaningful opportunities to do real work for real purposes as part of their experience. Students should learn by doing and learning should connect theory with practice," he said.
"While this seems obvious in nursing and teaching, it is just as critical in English or biology. Likewise, assessment should primarily be for learning more than of learning."
The complexities of interconnection are leading society quickly toward a machine-based world, said Professor Fischetti. To navigate this complex environment, he says a focus on enhancing humanity (the second key pillar) is crucial.
"Decisions we make about our future interconnections will not just be about driverless cars, but about handing over moral decisions to smart tools," he said.
"To preserve humanity, our STEM-focused career tracks should embed multiple opportunities to integrate ethics, history, arts, philosophy and morality."
The third key pillar, says Professor Fischetti, is expanding student access to education. To this point, he said most universities have been "sorting institutions".
"High marks and test scores from school leavers have equalled access and opportunity. Yet, high failure rates in first year driven by poor assessments lead to a large exodus of students," Professor Fischetti said.
"With lifelong learning required for all of us to stay flexible both intellectually and professionally, we must shift our attention to opportunity, knowledge promotion, and flexible entry and access points for the new-fangled chunks of learning experiences we offer."
Professor Fischetti said maintaining high expectations, rooted in fairness and widening opportunity coupled with flexible designs, will be a challenge for large universities that pride themselves on accepting high-ranking students, or that assume entrance requirements such as the ATAR are predictors of future success in the interconnected world.
Over the next few years Professor Fischetti envisions mergers and closures across the university sector in response to the multiple disruptions facing tertiary education.
"Meanwhile, every Australian will need to be part of post-secondary learning many times in their lives to remain viable," he said.
"That includes retraining for new work, new learning for jobs we haven't even thought of yet and engaging in university experiences to help us become smarter and better people."
Professor Fischetti said disruptive innovators should be the rule, not the exception.
"If we come together as learners in a community of well-being, kindness and keenness to solve problems and create knowledge in flexible ways, using emerging smart tools to reinforce learning, we can fully embrace the opportunities and challenges of the interconnected world," he said.