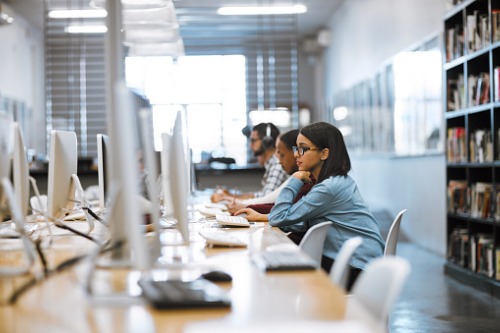 Earlier this month, a snapshot of the Education Report 2020 provided some key insights into the challenges facing Australia's education leaders as they adjust to a rapidly changing world.
The report, which surveyed senior education leaders in all states and territories, identified a number of pressing issues that are impacting on the ability of educators to improve professional development, student and staff wellbeing and the provision of technology across their campuses.
Just like their K-12 counterparts, university leaders are striving to ensure that young people are equipped with the necessary skills to thrive in the future workplace.
Indeed, the current workplace is already undergoing significant shifts in certain areas, such as automation and Artificial Intelligence, which require employees to utilize a very specific set of skills.
Studies have shown that 52% of Australian and New Zealand IT professionals expect high demand for skills leading to career options during 2020.
According to one expert, having a variety of certifications across different types of technologies, will greatly increase students' employability.
Daniel Johns is head of services, ASI Solutions and vice chair, ANZ Channel Community at CompTIA, a non-profit trade association, issuing professional certifications for the information technology industry.
He says higher education leaders should consider aligning with industry associations and incorporating industry-recognised certifications into their degrees, such as ISACA, (ISC)2 and CompTIA.
"They might also consider working with larger technology companies in Australia, and globally, to help fund the specific certifications and create relevant and up to date course material that will help students stay current and to continuously develop their skills," Johns told The Educator.

"There is the potential to start enabling students earlier in their education as well with options to begin working on their tertiary qualifications or certifications earlier".
Tertiary degrees may not be keeping pace
Johns pointed out that the IT industry is "fluid and evolving with new technology that is constantly emerging".
"This means tertiary degrees may not be keeping pace with the industry and as a result, leaving students will skills that are old, not transferrable, or with knowledge gaps," he said.
"Universities themselves aren't to blame; the approval process to adapt degrees is time-consuming and by the time the degree has been updated, changes in the industry are already underway".
However, Johns said the need for tertiary level education has grown rapidly due to the increasing demand for skilled workers across many sectors.
"As technology becomes more advanced, the requirements for specific skill sets mean an increase in the number of courses and certifications that need to be completed," he said.
"Based on the technical nature of these roles and the accountability required by businesses from a compliance level, they require certifications and proof of this knowledge. This is where it is important to have the varying certificates/courses on offer".
Johns said it is also important for students to look at alternate ways to obtain the skills they need.
"CompTIA, for example, is currently offering a free IT Fundamentals program for 3,000 students across Australia and New Zealand to help them decide whether a career in IT could be for them," he said.
"Students considering a career in IT or professionals considering reskilling can gain an entry-level IT certification without going to university giving them a taste of what's involved in a technology career".
Certificates in tech can help students upskill
John said Australia is facing a skills shortage, particularly in the IT industry and that if institutions don't keep up with the demands of the industry, it is likely workers from overseas will be leveraged to fill this skill gap in the market.
"Certificates in technology provide students with proof of the IT knowledge they have, which they can also use to expand their skills in further courses," Johns said.
He said this makes students more appealing to employers as it shows they have relevant and current knowledge about the technology in their chosen field.
"Tertiary learning needs to remain relevant but with an industry like IT, which is constantly changing, there needs to be greater collaboration between education institutes and industry bodies," he said.