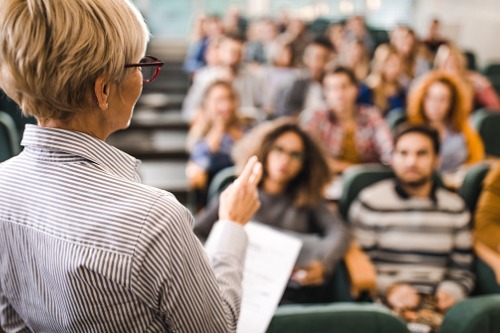 Teaching can sometimes feel like a thankless job, but every year the profession is celebrated through events that celebrate the far-reaching impact that educators have on young people's lives, and society at large.
In August, the Australian Education Awards bought together 571 of Australia's leading principals, department heads and teachers from across the government, non-government and Catholic education sectors.
A more recent event, celebrated globally, was World Teachers' Day on Saturday 5 October. The annual campaign helps give the world a better understanding of teachers and the role they play in the development of students and society.
Charles Sturt University (CSU) used the occasion to share the story of two of its teaching graduates who have been making a positive difference to the lives of their students.
Peter Finlay, a secondary school teacher from Orange, and Danielle Seymour, a primary school teacher from Dubbo, studied at CSU in the early 2000s, graduating with a Bachelor of Education (Technology and Applied Sciences) and a Bachelor of Education (Primary) respectively.
Today, both are experienced teachers working in regional NSW who are passionate about their profession.
'A varied teaching career'
Finlay, who is currently an industrial technology and agriculture teacher in his hometown of Orange, said it was a teacher of his favourite subject at school who inspired him to enter the profession.
"I really enjoyed technology and agriculture at school and the more I thought about teaching those subjects, the more I could see myself doing it," Finlay said.
"I spoke to a few of my teachers who thought I would be suited to it, so I decided to go to university and become a teacher."
Although Finlay is now teaching in his hometown, his teaching career has taken him across the globe.
"A particular highlight of my career is when I taught in north and south London for two years. It was a fun time where I could not only work in my chosen profession, but also travel around Europe and the United Kingdom during my weekends and holidays," he said.
"My career as a teacher has also been pretty diverse. I have had the opportunity to teach in all-boys schools, all-girl schools, independent schools, and in the state system."
Although Finlay mainly taught in the technologies area his whole career, he had some time teaching food technology and computing subjects and through extra study, also added engineering to the list of subjects he taught.
'Education will change the world'
Seymour, who hails from Cobar in far west NSW, has also had a varied teaching career which has taken her to many places across regional NSW, a part of the country she loves to live in.
"I wanted to be a teacher for as long as I can remember. Education will change the world, so to be a teacher you are someone who can drive the change," Seymour said.
"I have been fortunate enough to work in catholic, independent and government primary schools in Dubbo, Condobolin, Orange, Wee Waa, the Hunter Valley, Gunnedah and Cobar."
Seymour said that while she was predominately worked as a classroom teacher, she has also worked in learning support and literacy and numeracy support roles.
Today, she works at a government primary school in Dubbo, in western NSW.
When speaking of why she loves being a teacher in regional towns, Seymour said she has observed teachers having an impact in their communities in many ways.
"Teachers not only have a huge impact by educating future community leaders but they become community leaders themselves, especially in regional and rural areas," she said.
"Teachers often help organise sporting, fundraising and community events."
'Teaching is a great job'
When asked about what they want future teachers to know, Finlay and Seymour had some great advice.
"My advice to other university graduates is, don't be disappointed if you don't get a permanent job straight away," Seymour said.
"Move and teach in rural communities because you will gain a lot of experience as a classroom teacher. You will be more employable if you have full-time classroom experience."
Finlay called teaching a "great job", and one he enjoys more with each passing year.
"Students change, syllabi change and the world and society changes, so it is ever evolving," he said.
"You can put a lot into it, and it is rewarding. Students respect and respond well to a teacher who is invested in them."