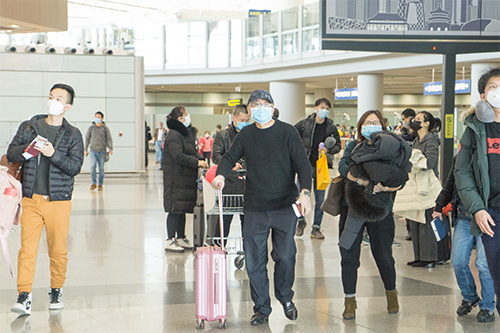 Earlier this month, the Federal Government suspended all travel from mainland China to Australia in response to the outbreak of the virus. The measure applies to everyone except Australian citizens, permanent residents and their families, until further notice.
However, The Australian recently revealed that some Chinese travel agents are using travel packages to third country transit destinations to help their citizen's international students who are enrolled in Australian universities circumvent the travel ban.
A report published in the national newspaper said bespoke "14-day, 13-night" packages to third-country transit destinations are being marketed for as little as $2,700 each.
"Thailand and Malaysia are the top two choices. Next is Cambodia," an education agent in Beijing told The Australian.
Nick Coyle, Beijing-based executive director of business lobby AustCham China, said the attempt to get around the Federal Government's travel ban came as no surprise.
"Chinese people, as we know, are very entrepreneurial, so it doesn't surprise me an industry has popped up to work around the current regulations," Coyle told The Australian.
Further delays could have consequences
The Federal Government has indicated that the travel ban could be extended for another week, a decision that is likely to put further financial strain on universities across Australia.
Council of International Students Australia (CISA) president, Ahmed Ademoglu, said the restrictions have the potential to drive prospective students away from Australia's lucrative international student market.
"There are serious concerns right now around incidents discrimination and racism towards anyone who looks Chinese," Ademoglu told The Educator.
"We're raising these concerns and trying to facilitate a discussion around implementation methods and good practice examples to fight that discrimination in the long term, and this will happen in classrooms as well".
Ademoglu said the Global Reputation Taskforce has had "good collaborations" with the Federal Government in their discussions about the coronavirus outbreak.
"In our meetings, we have been encouraging the Federal Government to turn chaos into opportunity in the wake of this crisis," Ademoglu said.
"Because we're in a very difficult situation and we're not the only country affected, we were encouraging discussions around global recognition of our degrees, our subjects and risk management around international education".