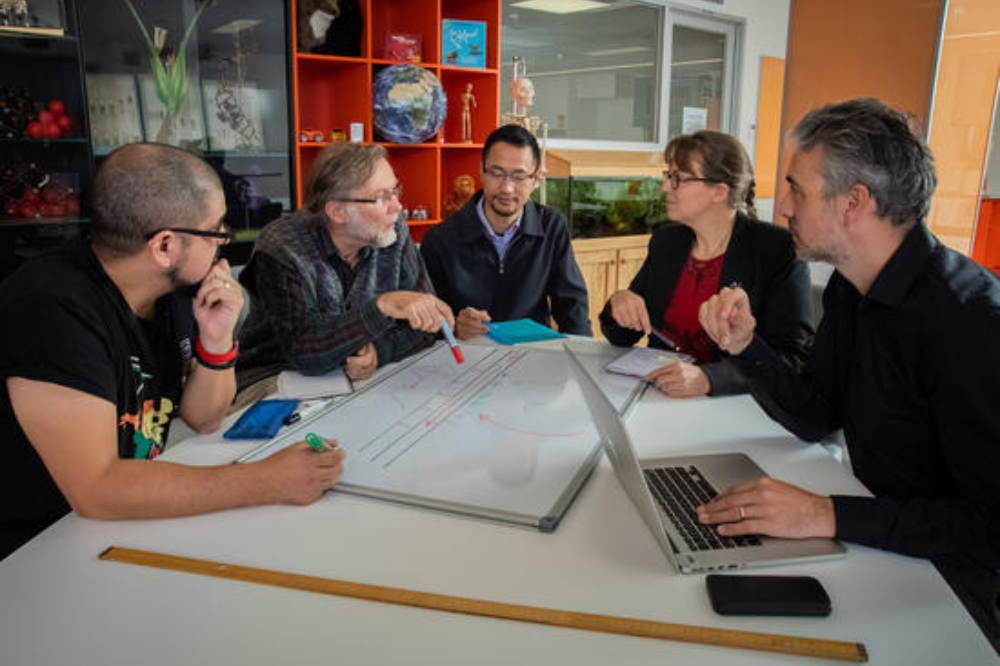 This article was produced in partnership with Deakin University.
Brett Henebery sat down with Deakin University's Head of School of Education Damian Blake to discuss how the University's cutting-edge courses are helping to tackle Australia's teacher shortage
According to Department of Education, Skills and Employment Modelling, Australian schools are facing a shortfall of approximately 4,100 teachers by 2025 – an unprecedented workforce shortage that is exacerbating many existing, and markedly complex, challenges that principals are facing.
In August, these issues were brought to Federal Education Minister Jason Clare at a Ministerial Roundtable meeting in Canberra, where it was agreed that a 'National Teacher Workforce Strategy' be developed by December to help attract and retain teachers and raise the status of the profession.
At the forefront of efforts to create a pipeline of high-quality teachers for Australia's schools is Deakin University, which holds a coveted spot among the world's top 1% of universities worldwide. Deakin is also ranked fifth in the category of Education and Education Research.
When The Educator last spoke to Deakin University's Head of School of Education Damian Blake about the University's post-graduate programs, Australia's education system was gripped by the Covid-19 pandemic. At that time, Blake said Deakin was focused on continuing to align its school partnership initiatives in ways that will enable Pre-Service Teachers (PSTs) to genuinely support school improvements.
"Since we last spoke, the shortage of teachers in schools has become significantly greater, with many schools now struggling to fill teaching positions," Blake tells The Educator.
"In response, Deakin has been working very closely with the Department of Education to implement our innovative, accelerated, employment-based pathway which enables our PSTs to commence employment in schools experiencing staffing shortage areas after a period of intensive ITE preparation."
Blake said these initiatives have focused on secondary schools as well as early childhood education.
"We have achieved approximately 200 PSTs who have been able to complete their initial teacher education course this way and subsequently continue employment as a registered teacher," he said.
"These initiatives have made a very significant difference for our schools and early childhood centres and the initiative are continuing into 2023, 2024 and 2025."
Blake said Deakin's partnership initiatives for supporting school improvement have also included use of the University's 360-degree immersive learning technologies and the Nyaal immersive learning theatre.
"This work has involved working with several school communities to prepare 360-degree video recordings of authentic instructional models being implemented in practice, and subsequently working with those schools and our PSTs to analyse and identify how these models may be improved further," he said.
"This has also been a very successful approach to supporting school improvement with our partner schools and our PSTs have benefited greatly from accessing the authentic models of teaching practice being implemented and continuously improved with help from our immersive learning technologies."
Turbocharging professional development
Blake said that moving forward, Deakin will continue to expand its applications of these immersive learning technologies to support practical strategies to improve professional practice into 2023 and beyond.
Deakin has also launched its new Master of Education (Leadership and Learning) which is now taking enrolments for 2023. The course has been designed specifically to support educational leaders, and emerging leaders, who seek to foster positive growth and development in their communities.
Blake said the program has been designed to support leadership for improvement in education contexts.
"To that effect we have prioritised important knowledge and skills developments in areas such as: policy and leadership in challenging times; evidence, analysis and evaluation for improvement; leadership for staff development and wellbeing; and leading and managing innovation, change and improvement."
The Federal Government's National Teacher Workforce Strategy earmarked $159m to train more teachers and $10m to boost teachers' professional development – yet the finer details of the plan won't be known till December.
Blake said these additional funds to support more teacher education are in response to Australia's significant teacher shortage, and has been influenced by programs such as Deakin's accelerated, employment-based ITE programs that were initially developed in 2020 when it became clear that Australian schools were heading for workforce supply challenges.
"To that effect this is a very positive development which will invest further into programs and partnerships we know are already having a good degree of success in responding to the teacher workforce supply challenges currently experienced across Australia," he said.
"Similarly, additional funding to support teachers' professional development in priority areas is also very welcome, and our School of Education has already established strong partnerships to support teachers' professional learning in a range of priority areas."
Blake said these priority areas include mathematics and science education, literacy and numeracy, and more recently providing professional learning programs related to trauma-responsive education, and applied and vocational learning designed to support the implementation of the Victorian Senior Secondary Reforms.
"While the Draft Action Plan is currently undergoing consultation, we will be seeking to include opportunities to build on existing programs supporting impactful professional learning, but also encouraging new and innovative thinking to support professional learning that will address priority areas such as improved educational outcomes for our First Nation's children, and improved educational outcomes for our rural and regional communities," he said.
However, Blake pointed out that developing meaningful teacher professional learning that is genuinely impactful in these priority areas requires an approach that understands the barriers and enablers faced by teachers who seek to make a difference in these contexts.
"It is important that such professional learning programs are responsive to the need for a place-based approach to professional learning rather than a one-size-fits-all strategy which would not be effective at all."
Blake said Deakin has been able to further support professional learning by making available Commonwealth Supported places for several priority areas where the University is offering post graduate certificates.
"Some of these post graduate areas include trauma-responsive education, early childhood education, applied learning, vocational education in schools, and TESOL."