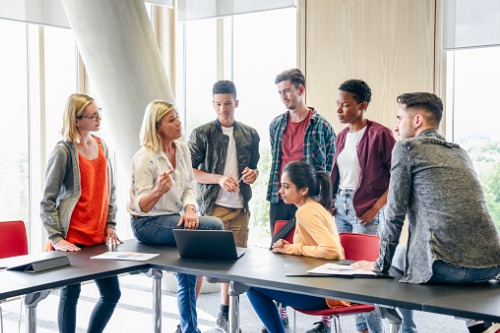 A group of Australian academics has developed a software program to combat the exponential rise in 'contract cheating' among tertiary students.
Believed to be a world first, the program launched by tech company Turnitin uses metadata, analyses readability scores, depth and breadth of vocabulary to detect cheating.
Contract cheating – where students engage a third-party individual or service to complete their assessments – is widespread and exceptionally difficult to detect.
Research conducted by the University of South Australia has found that 6% of Australian students have admitted to contract cheating, but the actual number is likely to be higher. Also, 15% of students said they had bought, sold or traded notes, and 27% of students had shared their completed assignment with another student.
To combat this, Turnitin launched Authorship Investigate, which provides data-driven insights into whether students are doing their own work. The program organises document metadata, analyses readability scores, and compares the depth and breadth of vocabulary in the student's work.
'A complex issue requiring a holistic response'
University of South Australia's research on contract cheating found that about 6% of university students and 7% of students at non-university higher providers (NUHEPs) report outsourcing their work to others.
While university students still use traditional sources such as family and friends, NUHEP students are 12 times more likely to report using a professional service.
Dr Bretag said this is particularly concerning in light of the fact that there are around 160 NUHEPs in Australia.
"I actually think university leaders are taking the issue seriously, as evidenced by the large number of submissions to the Department of Education and Training recently, calling for commercial cheat sites to be made illegal," she said.
She added that the issue is not that university leaders are not taking the matter seriously but that extensive resources are needed to identify and respond to contract cheating in ways that continue to foreground student learning (as well as students' rights), while upholding academic standards and institutions' reputations.
"It's a complex issue requiring a holistic response," she said.
"Hopefully Authorship Investigate will provide one more tool for educators to use, as part of institutions' commitment to appropriately resourcing teaching and learning, and a sector-wide response to addressing contract cheating."
'Significant time savings'
Dr Nick Milne, Senior Lecturer in the School of Engineering at Deakin University, tested Authorship Investigate by looking at historic cases of contract cheating.
"This was done to understand how the tool could be used to assist in the collection of evidence in complex cases, and how it may integrate into the current process for investigating these cases," Dr Milne told The Educator.
"I used it to look at cases where an allegation was proven, as well as cases where there were suspicions, but nothing that could be taken any further."
Dr Milne found that the tool saved a significant amount of time in collecting evidence, particularly in complex cross-faculty cases.
"I was able to collect and compare typical indicators of outsourcing or contract cheating across a student's submissions in a matter of minutes," he said.
He said the analysis that the tool performs also allowed him to focus his investigation more quickly towards key points of concern.
"In some cases, when using Authorship Investigate, I was able to see clearer evidence that something was wrong with a submission that had not previously been identified," he said.
2014 scandal raised the alarm
In 2014, a widespread cheating scandal involving five respected universities made headlines, revealing how dozens of students paying the MyMaster company to ghost write assignments and sit online tests.
Anna Borek, Academic Partnerships Manager at Turnitin, said the scandal brought the issue of contract cheating to the fore.
"Following the scandal, a number of Australian academics and researchers banded together to tackle this issue. As Turnitin is well-known for its technology solutions in academic integrity, these experts proactively approached us to see if we could help," Borek told The Educator.
"Since then, we've been collaborating with this group and other international experts to develop Authorship Investigate."
Following BETA testing, the service launched an Early Adopter Programme (EAP) last year so that colleges and universities from around the world could test the solution in real-world situations. Eight Australian universities participated in the EAP.
Borek said that due to the nature of contract cheating, it is difficult to detect, deter, and investigate.
"Traditional plagiarism-checking solutions often cannot identify it because the submitted work is original writing authored by someone other than the student," she explained.
"Authorship Investigate is designed to help those Academic Integrity Officers and/or Misconduct Investigators who suspect students of contract cheating to quickly gather facts, collate information, and make impartial judgments."
Borek said it is important to note that Authorship Investigate does not make a determination of authorship. Instead it is a tool to help streamline the investigation process.
"Institutions that implement Authorship Investigate also become part of a global community of experts and peers that share what they are learning about contract cheating from identifying it," Borek said.
"This raises awareness of the problem, best practices for preventing it, and investigating suspect cases."
Utilising evidence-based approaches
Dr Tracey Bretag, associate professor and director of academic integrity at the University of South Australia, had been liaising with Turnitin for many years before she met the technology's founder, John Barrie in Adelaide in 2002.
"Since the beginning, Turnitin has demonstrated a keen interest in utilising evidence-based approaches," Dr Bretag told The Educator.
"I've been pleased to be able to share my research findings from numerous projects with Turnitin as they have refined their products and taken new directions away from 'plagiarism detection' towards supporting academic integrity."
Dr Bretag said it therefore made "perfect sense" to share her own practical experience in identifying and responding to contract cheating, as well as her nationally funded research, when Turnitin decided to develop a new product aimed at assisting staff to identify contract cheating.
"With a number of other universities such as UNSW and Griffith, I provided Turnitin with access to experienced teaching staff, as well as academic integrity decision-makers so that they could learn tips and tricks from people on the ground," Dr Bretag explained.
"I also trailed the Beta version of the new software 'Authorship Investigate' on a number of contract cheating cases which we had already substantiated, to see if the results from the software matched the results of our laborious and time consuming manual process."
Dr Bretag said that, by and large, they saw potential for the new software to be very useful, although they recognised that teaching staff would require significant support and training to implement it.