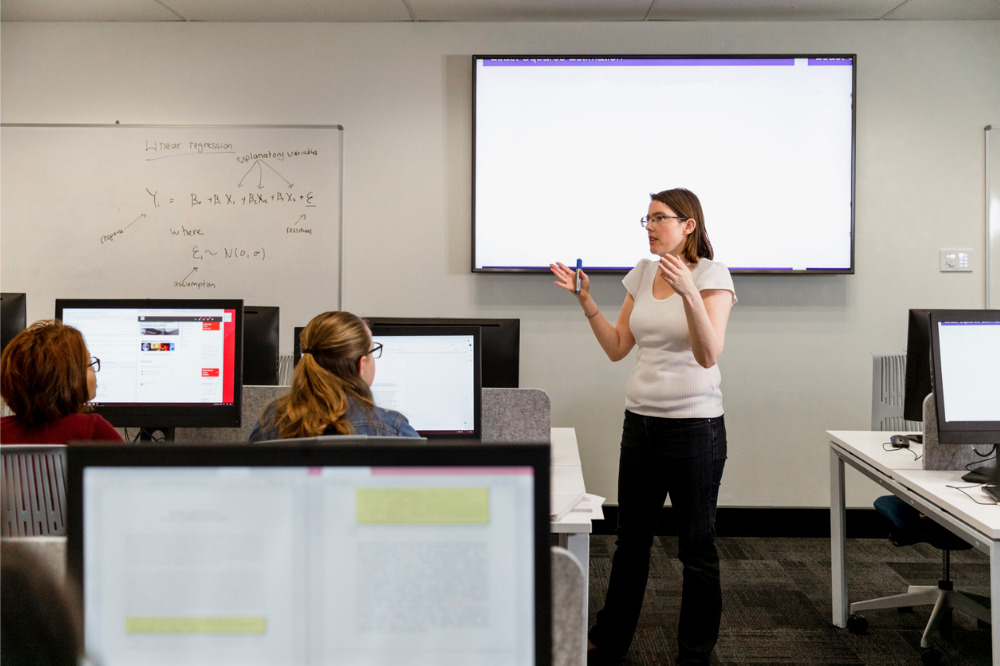 The Prime Minister's address to the national press club on Monday outlined his vision for 'avoiding mistakes and delays of the past' but without a plan to properly fund public education he is doomed to repeat the mistakes of the past.
So far, the Government has concentrated economic support in response to the pandemic on businesses and individuals. If only the Treasurer had taken up the AEU's proposal for a federally funded school building improvement program when he called for ideas to kickstart the economy last year.
He could have created an immediate stimulus, 'created jobs and more jobs' for the construction and manufacturing industries and we would now have thousands of students going back to schools with new state of the art learning environments. Or at least the updates to outdated buildings they have been denied since the federal government pulled the plug on capital works funding for public schools in 2017.
It would also have balanced economic support for the male-dominated construction industry with outcomes for the female dominated education sector delivering a gender inclusive reconstruction agenda and a stronger economy. Indeed, it still could. Instead, the Treasurer looked to home-owners and cutting red-tape for business when even before the pandemic, it was reported that business is not creating jobs. Last year, eight out of 10 new jobs were created in the public sector by governments.
The AEU's pre-budget submission outlines the need to invest in education so that students can become the innovators and disruptors of the future – creating life changing jobs. Australia can't rely on digging up resources and home improvements indefinitely. At some point the lucky country will run out of luck.
Let's not repeat the mistakes of the past. For years previous prime ministers have been saying we should transition to being the 'clever country' or 'the innovation nation'. That will only happen if governments invest properly in public education. Indeed, Scott Morrison was directly advised by the Productivity Commission back in 2017 when he was treasurer that education is one of the essential foundations to improving productivity and prosperity.
A good education system will ensure that everyone has the key foundational skills — numeracy, literacy, analytical skills- to ensure that Australians are able to adapt in the face of economic challenges. Moreover, it is 'directly under the control of government' and – 'along with investment in healthcare will deliver bigger benefits that even traditional industry reform' he was told.
Yet, the Government continues to undermine these foundations by looking for ways to cut or contain public education funding seeing it in a reductionist way rather than as a responsible investment. Unsurprisingly neither early childhood education, public schools nor TAFE were a priority in the last budget.
The AEU pre-budget submission shows that investing in education to achieve an increase in the PISA score of 25 points would deliver an average of $65 billion in increased economic benefits each year until 2095 – that's approximately 5% of GDP.
Australia desperately needs this boost in PISA results, the latest survey revealed students from low socio-economic households are almost three years behind their peers in reading. We know early childhood education improves primary education. Yet Australia lags behind the rest of the world when it comes to funding early childhood education. The vast majority of countries offer two or three years of pre-school education as standard.
Again, this is an area where investment can have a huge long-term impact. Research by Price Waterhouse Coopers demonstrates that for every dollar invested in early childhood education Australia could receive two dollars back through higher tax revenues, higher wages and productivity, and lower spending on welfare.
The Productivity Commission's most recent report agreed that Government had relied on TAFE more than ever during the pandemic. We know that it will be critical to our post-pandemic recovery but, under the Morrison Government, Australia's total investment in the VET sector is now at its lowest level in real terms since at least 2008. Unless governments act to restore TAFE funding, its future in the Australian education system is under threat.
Yet again, the annual costs of operating the TAFE system are modest when compared to its benefits. Independent research shows that Australia's historic investments in quality TAFE education supported economic benefits of $92.5 billion to the Australian economy in 2019 — 16 times greater than the annual 'maintenance' costs. The estimated combined costs of the TAFE system totals $5.7 billion per year - only 0.3% (approximately) of Australia's GDP. It all adds up.
So, let's avoid the mistakes and delays of the past and invest in public education now. It is fiscally responsible and will deliver on the Government's plan for job creation, a stronger economy and a secure future. And most importantly, it will deliver for the children, students and young people of Australia.
Correna Haythorpe is Federal President of the Australian Education Union.