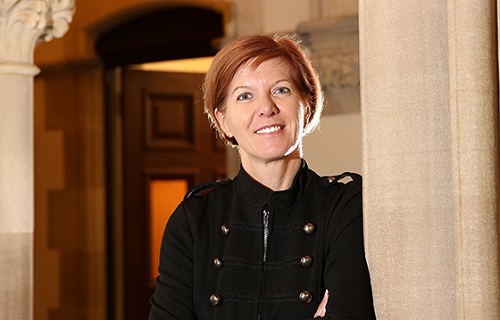 Professor Pascale Quester, a respected researcher of consumer behaviour and marketing communications, has been named Swinburne University's new Vice-Chancellor.
She joins Swinburne from the University of Adelaide, where she has been Deputy Vice-Chancellor and Vice-President (Academic) since 2011.
Swinburne Chancellor Professor John Pollaers said the University is "looking to the future" in appointing Professor Quester, who begins her term in the role in August 2020, coinciding with the retirement of Professor Linda Kristjanson AO.
"The recent weeks have thrown up extraordinary challenges to the Australian community," Professor Pollaers said.
"The university sector is responding – and I thank all who are making sure the university continues to operate in these times, supporting our students as they build their futures".
Swinburne has moved swiftly to adjust to public health measures related to the coronavirus (COVID-19), with all teaching and research activities currently conducted online.
So far there have been 1,700 Australians infected with COVID-19, including seven deaths. Worldwide, the toll stands at 372,000 infected and 16,300 dead.
Many universities across Australia have moved learning online to mitigate the risk to students and educators. However, some experts are calling for all schools and universities to close to prevent potential outbreaks across multiple campuses.
Referring to the Prime Minister's speech on Monday night, Professor Pollaers said students "cannot afford to lose a year in their progress".
"It is critical we continue to build capability, so that we can bounce back as this crisis passes," he said.
"We recognise that universities are national assets, critical to our future economy. We need to ensure we are continuing to make the right decisions for the future. It is in this context that I am delighted to announce Professor Quester's appointment."
He added that Swinburne has established a "strong and growing reputation as a new type of international technology university", and that Professor Quester "has the vision, leadership and resolve to see us through the next chapter of our story".
And there's no doubt the University will be in good hands.
Professor Quester's work has been backed by industry as well as a number of competitive funding bodies, including the Australian Research Council. She has also been actively involved in developing links with overseas institutions in Asia and Europe.
"Blessed with a dual-sector foundation and armed with the capacity and ambition to create and apply the science and technology needed to build a better future, I believe Swinburne can become the prototype of a modern, industry-embedded and value-creating technology university," Professor Quester said.
"Notwithstanding current headwinds, Swinburne is superbly poised for a bright future and I am honoured and humbled to lead the team and all staff through the next chapter of Swinburne's evolution".
Professor Quester said she and the University's Council were grateful to outgoing Professor Kristjanson's "expertise and compassionate leadership" through "unchartered waters".
"Professor Kristjanson shines for her outstanding contribution and commitment to education in Australia," she said.