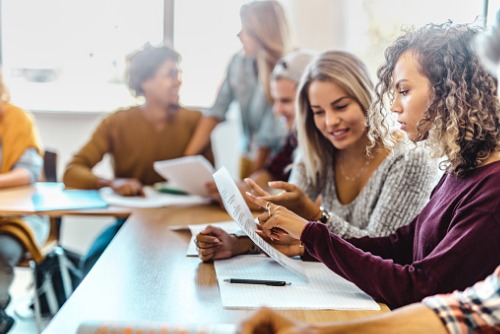 Australia's tertiary education sector needs to influence beyond students and increase employability of courses, a new study shows.
The survey, by QS Enrolment Solutions, urged Australian universities and tertiary institutions to market to and influence parents and employers of prospective students more than ever before, and ensure they deliver and promote 'career-ready' courses in an increasingly competitive employment market.
The 2019 Domestic Student Survey: Maximising the Student Experience uncovers trends and insights into what is influencing Australians' decisions about where and what they study at a tertiary level.
Now in its third year, the survey is the largest of its kind, collecting 7,291 responses from prospective students from 13 participating institutions across Australia.
The survey reveals parents are an influential source for 60% of prospective students when deciding where and what to study, and the most influential source for more than one in three (33%).
Forty-two per cent of respondents said their employer or manager was influential in their decision-making, and nearly half of all respondents (48%) listed a career advisor as an influencer.
QSES Vice President Operations Davorin Vrdoljak, said tertiary institutions need to have deeper insights into student motivations and behaviour in order to be competitive in the current market.
"[The tertiary sector] also needs to know who is influencing these decisions and what communication channels they can be reached through," Vrdoljak said.
"This extends to the prospective student's family, especially if they are school-leavers."
Vrdoljak said institutions must take on the role of communicating not just to the prospective student, but to future employers, guidance counsellors and parents to present the most relevant information and set expectations for success.
Students want vocational outcomes, too
The survey also revealed that students are deciding where to study primarily on career outcomes – 76% of survey respondents said one of the most important factors in their decision-making was whether the course leads directly to my chosen career.
"Prospects will only consider a course or institution if they believe that it will get them to where they want to go professionally. Courses must be structured and promoted with 'career-readiness' as a primary focus" Vrdoljak said.
"Focusing on the ability of a course to deliver clear employment outcomes and career prospects could be promoted by faculties during open days."
The survey also found prospective students are utilising a variety of communications channels to access information and inform critical decisions around their education, including which institutions to attend and courses to select.
Social media remains a key source of information. More than half of all prospective students (57%) use social media to research their desired university or TAFE, suggesting institutions need to engage them on those platforms before the application process begins.
However, despite the rise of influence via digital channels, 91% of school leavers and 81% of undergraduates say they still plan to, or have attended a university or TAFE information event.

Of those who attended an open day or information session, 63% of prospective students said the event was an important influence in deciding where to study.
"Tertiary institutions need to engage with prospective students at the right time, through the right channels, to secure enrolments," Vrdoljak said.
"It is vital that institutions recognise the differing needs of each prospective student so they can structure their communications accordingly."
Vrdoljak said that in order to effectively compete today, tertiary institutions need to understand the disparate needs of different types of students and tailor their communications and marketing.
"Deepening their understanding of various student groups would also help institutions establish relevant industry and employer links and get more graduates into the workplaces that they want to be in and the Australian workforce needs," he said.