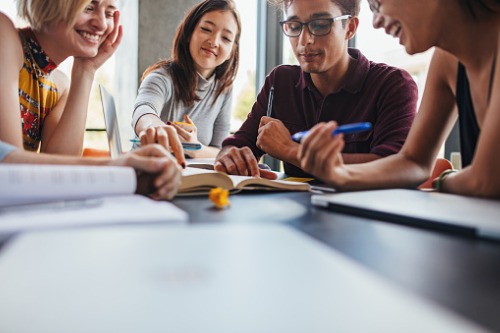 A number of reports have shown that Australia remains one of the world's top destinations for international students. Still, higher education institutions are still trying to understand the decision-making process of these students.
And with good reason. June data from the Australian Bureau of Statistics reported that international education generated $32.4bn for the Australian economy from 2017 to 2018, an increase from the $28.1bn contribution from the previous year.
As part of a recent project for Navitas, a team from Deepend – one of Australia's leading independent digital marketing agencies – conducted an in-depth, qualitative research program to better understand the motivators and deterrents for international students.
Orientation Go – a mobile app designed to orientate international students before they arrive on campus – was a key initiative born from Deepend's research with Navitas.
The app encourages students to connect with others, familiarise themselves with the campus and undertake key administrative tasks to better prepare them pre-enrolment. Gamified interaction encourages repeat usage and serves to slowly prepare the student for their arrival in the country.
"Throughout this project, we gained a far greater understanding of what drives different students in their decision-making process," Lucy Blakemore, head of customer research and insights at Navitas, told The Educator.
"We discovered that many international students suffer their on-College anxieties in silence. It's not until the third or fourth week that they arrive at some form of student councillor to raise the issues, which in many cases is too late to allay their concerns."
Blakemore noted that while these concerns vary widely, from where to live to how to connect with other students of the same nationality, the impact of not addressing each concern is the same — increasing student anxiety in the critical early stages of their study, and ultimately a negative experience.
"Orientation Go is specifically designed to gently orientate the students before their arrival on campus through forging connections with other new students, providing a means of involving themselves and improving their confidence," she said.
"We are approaching our first intake of students who've been encouraged to use Orientation Go and already we've seen a 50% uptake of the app. This augurs well for the programme and will only provide us with more input to further improve things in the future."
'International students suffering in silence'
Chris Crammond, managing partner of Deepend, said there were several core learnings from the research.
"There is no one-size-fits-all approach to attracting and converting student leads – Understanding the idiosyncrasies of different personas will assist in better shaping areas such as search and content strategies," Crammond told The Educator.
"Parents of students can play a critical role in their decision-making process – crafting marketing strategies to this audience can assist both directly and indirectly in converting more leads to applications."
Crammond said understanding and empathising with specific areas of student anxieties will assist in many areas of marketing – from content strategies to simple tone of voice improvements.
"Supporting and encouraging students to participate in university life outside of their comfort zone is also key to their development and success," he explained.
"Recent reports note that many Asian students gravitate to others of the same cultural background to their own detriment. Some even admit that their English language skills deteriorated whilst at university in Australia."
So how do higher education institutions need to pivot to attract international students?
Crammond said understanding potential anxieties and seeking to mitigate them is key to driving enrolment and ensuring students matriculate successfully throughout their college or university experience.
"Interviews with on-campus staff revealed that many international students suffer such anxieties in silence," he said.
"It's not until they have been attending University for several weeks [coincidentally aligning with the critical Census period] that these fears boil over, and the students present themselves to Student Services almost at a point of no return."
Crammond said these sorts of learnings can help educational institutions overhaul their marketing materials to better allay unspoken concerns from potential students.
"We have sought to use these insights by connecting international student leads with other current students of the same nationality," he said.
"We have achieved this by capturing and editing a broad range of video content, from how to open a bank account in Australia, how to use public transport, where to live, where to eat and how to socialise and involve themselves in campus life."
Be aware of students' anxieties and concerns
Crammond said truly understanding student bodies motivation in enrolling and matriculating through a college education is a "lifelong pursuit".
"Effective college marketing teams need to constantly seek input and feedback from their student body to remain fluid and evolve accordingly," he said.
"This means shaping flexible and multi-faceted communications strategies to both attract and retain students throughout their journey from awareness to enrolment and to graduation."
Crammond said international student concerns can be affected by a single adverse media event or a cultural insensitivity.
"Being constantly aware of these sorts of anxieties and concerns will allow you to counter these via the most immediate and appropriate channels," he said.