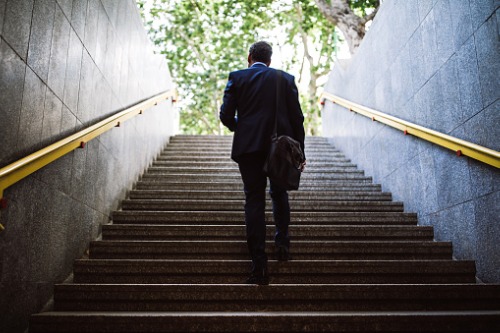 Richard Turner, who has made a name for himself as one of Australia's most successful business innovators, is about to embark on his next big thing.
From next Monday, Turner – who has founded four highly successful start-ups, including the green energy company ZEN Energy – will step into the University of South Australia (UniSA) as its Entrepreneur-in-Residence and Industry Professor of Practice.
Turner will work with UniSA's high-profile business initiatives, including the Innovation & Collaboration Centre (ICC), the UniSA MBA, and the Australian Centre for Business Growth.
The mission is critical. In collaboration with these initiatives, Turner will foster connections, commercialise innovation, inspire future entrepreneurs and help the University grow the economy at both a state and national level.
"The University of South Australia Business School is ranked in the top one per cent worldwide and has a track record of launching world-leading platforms to nurture new ideas and to help businesses grow," Professor Turner said.
"I hope to enhance that focus and share my expertise and networks."
Turner said South Australia has a "natural competitive advantage" in renewable energy generation that must be taken advantage of quickly if the state wants to lead the next wave of innovation.
"This includes globally competitive clean electricity and hydrogen production, that will feed into new developments in mining, defence, space and many aspects of the industry 4.0 revolution," he said.
"We want to attract the students, start-ups and emerging businesses from all over the world to South Australia, to study, establish themselves here, and work at the leading edge of these new industries."
To do this, says Turner, the state needs to grow its talent base through targeted training that is aligned with these industries.
"South Australia has the ideas and it has green resources in abundance, what we need to do better is connect people, attract investment, and model and market our enterprises with a complete commitment to success," he said.
"Growing a business from inception to the $1m revenue mark can be a difficult task and requires significant experience sharing and support."
'An exciting opportunity'
UniSA Vice Chancellor Professor, David Lloyd, said having a leading business figure like Professor Turner join the University is "an exciting opportunity".
"Richard has done it all – started with an idea and developed a whole enterprise – and he has done that successfully four times over," Professor Lloyd said.
"His experience is priceless and will be a huge advantage to our students, to our entrepreneurial researchers and the industry innovators that work with them, and to all the innovators we are encouraging at the ICC."
Professor Lloyd said Turner's commitment to South Australia and to the potential of the state's talent, creativity and innovation was "outstanding".
"We are delighted he will be working with us to lead innovation in the state," he said.
Pro Vice Chancellor of the UniSA Business School, Prof Marie Wilson said the appointment underlines the University's commitment to growing innovation and business in SA.
"At UniSA we pride ourselves on doing business, not just talking about it, and Richard is a proven change-maker who knows how to get business done," she said.
"His entrepreneurial perspective and unparalleled professional networks will play a major role in deepening our already strong engagement with enterprise, growth and industry development that are central to our role as Australia's University of Enterprise."