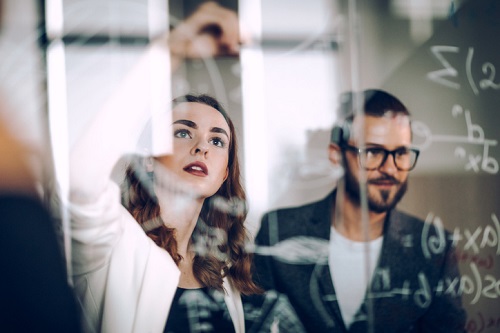 Last week, the NSW government announced it will make mathematics a compulsory subject for Year 11 and 12 students, and that aspiring primary school teachers will have to achieve a band 4 in HSC mathematics.
Given that data from the Australian Mathematical Sciences Institute (AMSI) shows 76% of students are taught maths by an out-of-field teacher at least once during their first four years of high school, this development has raised concerns about the lack of qualified maths teachers to deliver the subject within the NSW school system.
The University of Notre Dame Australia's Dean of the School of Arts and Sciences, Sydney, Professor Cate Thill, welcomed the announcements.
"The government's commitment to increasing participation in mathematics is vital to addressing growing industry demand for a STEM-capable workforce in the context of innovation and expansion in the use of complex technology," Professor Thill said.
"Mathematics is widely acknowledged as essential to all STEM fields and STEM capabilities are increasingly recognised as key drivers of innovation and economic growth."
However, Professor Thill cautioned that engagement needs to be addressed alongside participation.
"Ideally, we want more students undertaking advanced and extension level mathematics not simply because the subject is compulsory but because they are inspired by its beauty and motivated by its real-word application," she said.
The shortage of mathematics teachers has been identified as a barrier to implementing the government's plans, and high numbers of out-of-field teachers in mathematics is already having a negative effect on student participation and engagement.
"Students in the middle years are being taught mathematics by out-of-field teachers who are themselves anxious about the subject and do not have the deep knowledge necessary to inspire their students about how mathematics can help us to solve scientific, technological, engineering and social problems," Professor Thill said.
To help address this growing problem, the University of Notre Dame has launched an innovative postgraduate program to retrain teachers in the field of mathematics.
The nested program of study encompasses the Graduate Certificate in Mathematics, Graduate Diploma in Mathematics and a Master of Mathematics Education.
The program is timetabled around school terms to help teachers balance work and family commitments.
"Universities must work in partnership with the government and key stakeholders to address the shortage of mathematics teachers," Professor Thill said.
Dr Alan McCarthy, who co-designed and heads up the mathematics program, said that "the aim of the program is to give teachers the capacity and confidence to think mathematically, to ask why and not just how, and to inspire inquiry in their students."