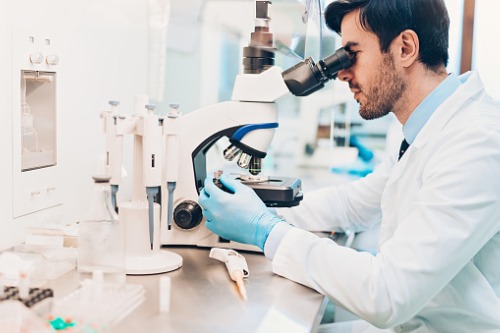 A medical condition responsible for 50% of all cases of blindness could soon be a thing of the past, thanks to ground-breaking research out of Bond University.
Macular degeneration causes progressive loss of central vision, affecting the ability to read, drive and recognise faces. While it is usually related to ageing and commonly affects people over the age of 50, it is not a normal or inevitable consequence of ageing.
However, Jason Limnios, who is about to graduate with a PhD from Bond University's Clem Jones Centre for Regenerative Medicine, is hoping his latest discovery will make life easier for those suffering from the condition.
Limnios' work involves taking stem cells and growing these into healthy retinal pigment epithelium (RPE) cells which can be implanted in the eye to replace damaged cells.
After extensive modelling, he has now figured out how to grow these cells in a laboratory.
"This to me was eureka. I had modelled what it might take to make this happen and within the first few experiments it just worked," Limnios, speaking at Bond Research Week on the Gold Coast, said.
"We can now make these RPE cells really quickly, at high efficiency under clinical-grade conditions and that's important when it comes to treating a lot of people."
Limnios is working with eye expert Associate Professor Nigel Barnett to take the treatment to animal trials.
"[Barnett] a retina guy and we make human eye cells here, so surely this a perfect fit," Limnios said.
"We can work as a team to test them in [animal] eyes as we move towards a clinical trial."
Limnios has already trialled putting cells into rats' eyes.
"This gives us promise that the implant works but it was only a short-term test of improvement," he said.
"I wouldn't put these into my mother quite yet. We still have a long way to go."
Centre Director, Professor Helen O'Neill, said RPE cell replacement for macular degeneration was one of the most promising applications of pluripotent stem cell therapy.
"Jason is certainly a talented scientist when it comes to reprogramming pluripotent stem cells," Professor O'Neill said.
"His work is central to Bond's Centre for Regenerative Medicine providing cells and methodologies to advance a cure for this important disease."
The research is being funded by a bequest from Cora Cutmore and the Clem Jones Foundation.